In today's world, staying updated with the latest news is as essential as your morning coffee. Whether it's politics, life events, or just some fun stuff to lighten up your day, it's important to stay on top of the buzz. If you're a news junkie or just someone who likes to keep their finger on the pulse, podcasts can be your new best friend. One such podcast that beautifully blends politics, life, and fun is The Cameron Journal Podcast. It's a refreshing take on the world from a different perspective. So, if you're ready to shake up your news routine, this show might just be what you need.
Keep reading our article to find out more about The Cameron Journal Podcast and why it's worth tuning in. Let's dive in, shall we?
Overview of The Cameron Journal Podcast
The Cameron Journal Podcast, hosted by Cameron Cowan, is a delightful auditory treat that dives into a variety of engaging topics. Cameron, a political commentator, writer, bookseller, and editor-in-chief of Rouges Magazine, uses his platform to discuss anything that piques his interest. There is no boundary to his curiosity, which makes each episode uniquely captivating. 
This podcast is a potpourri of discussions featuring business, leadership, political commentary, and much more. Cameron often invites interesting guests, such as authors and business leaders, adding more depth to his discussions. He also explores fun topics, making his podcast a delightful blend of serious and light-hearted content. 
In one episode, you might find Cameron discussing the evolution of fashion over the years, while in the next, he might delve into the intricacies of a self-employed life. He also shares insightful tips on publishing a book and offers practical advice on organizing schedules. It's like stepping into a world where you are never quite sure what interesting topic might pop up next. 
With episodes typically the length of an average commute or two short commutes, it's perfect to accompany you on your way to work or during your workout sessions. 
The Cameron Journal Podcast is designed for the everyday listener. And it aims to keep you engaged, informed, and entertained, all at the same time. Whether you're a political junkie, a budding entrepreneur, a book lover, or just someone who enjoys meaningful conversations, The Cameron Journal Podcast has something for you. 
About Cameron Cowan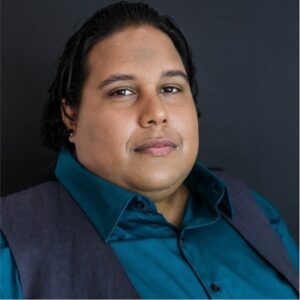 Cameron Lee Cowan is a Denver-born writer with a knack for telling everyday stories in a profound manner. His writing journey began in 2005, crafting essays and short stories with a unique vintage charm. His varied experiences in music, fashion, theater, and writing have all influenced his storytelling style. 
Cowan also has a deep interest in politics, which is reflected in his writing. He has a background in political science and creative writing, thanks to his education at the University of Northern Colorado, Norwich University, and Goddard College. He started his political journey on the Republican side, even getting involved with Young Republicans. He even held a managerial position in a conservative magazine. However, by 2011, thanks to the Occupy movement, his views had shifted, and he began moving towards more liberal and leftist ideologies. Now, he proudly identifies as a West Coast liberal. 
He has published three books so far: Cast Iron: A Novel, An Unfinished Coloring Book, and What the Hell is Going On? He has also been published in 34th Parallel magazine. So, if you're interested in stories with depth, and politics, or just want to hear some interesting perspectives, Cameron Lee Cowan is your go-to guy. His distinct style and diverse experiences make his works and his podcast a fascinating journey to embark on.

What I Like About The Podcast
If you're a fan of podcasts that give you a healthy mix of information and entertainment, then The Cameron Journal Podcast should be on your radar.
What makes it stand out from your typical podcast is that it doesn't just parrot the headlines. This isn't your standard 30-minute quick listen. It goes the extra mile to bring you fresh details and interviews that you won't find anywhere else. This means you're not just getting a rehash of the news; you're getting an in-depth, thoughtful exploration of the topics at hand.
The guests on The Cameron Journal Podcast are another reason to tune in. They're not only interesting; they're also diverse in their areas of expertise. This isn't a podcast that's stuck in a rut. It's always evolving, always finding new angles and perspectives to bring to the table.
But perhaps the best part is the range of topics it covers. You never know what you're going to get when you tune in. Guests are encouraged to talk about whatever they want, which makes for a podcast that's as unpredictable as it is engaging. You could be learning about the latest in tech one day, and then diving into a philosophical discussion the next.
Despite its comprehensive coverage, The Cameron Journal Podcast never feels overwhelming. It has a knack for keeping things concise and digestible. You won't find any long-winded, convoluted discussions here. Instead, you get just the right amount of detail – enough to keep you informed, but not so much that you lose interest.
In essence, The Cameron Journal Podcast is a great way to stay informed without feeling like you're studying for an exam. It's a podcast that respects your time, your intelligence, and your curiosity.
What I Don't Like
While I find certain aspects of The Cameron Journal Podcast appealing, there are also elements that don't quite hit the mark for me. For starters, I really enjoy the introductory spill and the music that sets the tone for the rest of the episode. However, I am not keen on the lengthy introductions that precede the main content of the podcast.
For me, it feels like these long intros drag on and delay getting to the heart of the episode, which is a bit of a turn-off.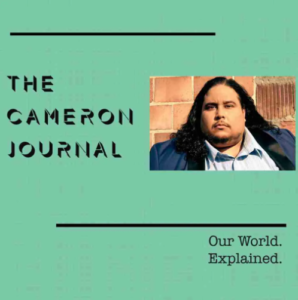 Most Listened-To/Downloaded Episodes
This is a hot and heavy episode of politics and philosophy with Lacanian philosopher Daniel Tutt. This episode is long and certainly a journey but we're analyzing the modern left and what goes right and what goes wrong, even with the Biden administration in power.
When Prince Harry and Meghan Markle got married, it was truly a royal affair. Their marriage has been troubled since the wedding but one iconic sung at their wedding would be so emblematic of their troubled history with the press, the British public and the world. In this episode we're going to talk about both and hear some great music.
This is one of the toughest conversations I've ever had. Donnie and I both grew up evangelical and while I left the church in 2006, Donnie didn't leave until a few years ago. We spend time talking about the culture of the evangelical church and what it is like growing up in a cult-like environment. This is less of an interview and more of a conversation between two men who have shared experiences. This interview is very long but it is a journey.
This week on The Cameron Journal Podcast we welcome Maya Abu Alhayat to the podcast. She is the editor of a new collection of Palestinian writing (in translation) called The Book of Ramallah. This interview blew me away. It was an amazing conversation and I can't wait to get feedback from listeners. We had a great conversation and I asked lots of interesting questions and lots of ignorant American questions. It is amazing to see such art come from an occupied land and people who live in an apartheid state.
In this episode we talk with Bryan Cassady about business, start-up culture and entrepreneurship.
Cycles is a powerful new book about how to grow ideas faster while reducing risks. You can get a free sample of the first 5 chapters. If you'd know more about how to get teams aligned, check out their TRUE NORTH videos. You can learn in 10 minutes how to get any team aligned.
Final Verdict
After listening to The Cameron Journal Podcast, it's clear this isn't your run-of-the-mill listen. With an engaging assortment of topics from business to leadership, and a dose of political commentary, this podcast ensures you're always on your toes. The advice and insights provided are practical and actionable – expect to walk away with a mind brimming with fresh ideas.
So, are you ready to break away from the predictable podcast routine? Fancy getting your hands on some valuable nuggets of wisdom? Then The Cameron Journal Podcast is just the ticket. Don't just take my word for it though, click the listen button below and start discovering a new podcast experience with The Cameron Journal Podcast.