Welcome to The Cycling Podcast review! Are you looking for an entertaining and nostalgic cycling experience? Do you want to hear cycling stories from everyday people who love to ride? Or do you want to improve your cycling skills in your limited time? Look no further; the Cycling Podcast has it all.
In this review, we will discuss what The Cycling Podcast is, and we will also provide our opinion on the podcast. So, if you're looking for an entertaining and informative cycling podcast, read on to find out what this podcast offers.
A Synopsis On The Cycling Podcast
The Cycling Podcast is an audio magazine that dives deep into the world of professional cycling. It started as a daily commentary on Tour de France stages in 2013 and has since grown to become a reliable source for race reports, speculation, and news related to cycling. From life inside the peloton to bike-packing adventures worldwide, The Cycling Podcast provides unique insights into the sport we all love. 
Hosts Lionel Birnie, and Daniel Friebe provide in-depth coverage of major racing events. Whether reporting on the Tour's events or talking about the new Tour route. Plus, exciting interviews with riders, authors, journalists, and publishers. Each episode offers listeners a chance to experience the passion and dedication behind the sport firsthand.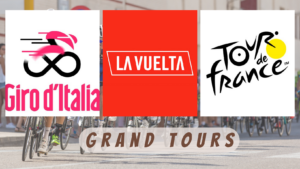 Their weekly show goes daily for all three of cycling's 'grand tours': the Giro d'Italia, Tour de France, and Vuelta a España. Additionally, they produce The Cycling Podcast Féminin (about women's racing), Service Course (tech/equipment-focused), and Explore (bikepacking and gravel racing). 
Through race reports, speculation, and news updates, The Cycling Podcast gives an unparalleled insight into professional cycling from those who know it best – its participants. Whether you're looking for analysis after a big stage win or just curious about what life is like inside the peloton, The Cycling Podcast is the go-to destination for every fan of two-wheeled sports. 
On Monday, March 28 2022, former host, Richard Moore passed away at the age of 49. It is unknown what caused his death, which occurred just after covering Gent-Wevelgem the previous day. 
What Makes The Show Among The Best UK Sports Podcasts?
The Cycling Podcast is one of the best UK sports podcasts due to its high-quality content and production. It has been around since 2013, so they have a wealth of experience covering the peloton. 
One major draw for listeners is that The Cycling Podcast has great sponsors who help keep content fresh throughout each season. One such sponsor — Supersapiens, provides exclusive content that dives deep into topics like performance science and data analysis related to riding skills or power output on specific courses or climbs during races. This makes the show stand out from other offerings in the market.
The main hosts – Lionel Birnie and Daniel Friebe – have both been involved in professional cycling for many years, so listeners get to hear their expert insights on all aspects of the sport. Their expertise adds insight into their conversations and makes the show engaging for avid cycling fans and those interested in learning more about the sport.
Lastly, many people are drawn to The Cycling Podcast because it offers something beyond just race coverage. They have stories about unique characters in the sport and inspiring tales from lesser-known riders. Besides, advice on training regimens, reviews on new gear, and current news articles relevant to cyclists' interests. They regularly dive into topics which can help any rider become better informed before making big decisions.
All this combines to make The Cycling Podcast an excellent choice when looking for a great UK sports podcast listening experience. 
Some Key Takeaways From The Cycling Podcast
Professional Cycling: Provides an inside peek into the world of professional cycling.
Analysis: Each episode features interviews with professionals, who provide their perspective on the sport and its events. It also provides analysis of the pros and cons of different strategies, techniques, and tactics used in professional cycling.
Training Tips: Offers training tips, such as what to eat and drink before and after a race, as well as advice on how to stay motivated and focused.
Safety: Discusses safety issues, such as the importance of visibility when riding in the dark, and the importance of wearing a helmet.
Nutrition: Nutrition is an important part of cycling, and the show covers topics such as how to eat for a race, and how to create a balanced diet for optimal performance.
Technology: Covers the latest technology and trends in cycling, such as the use of power meters, GPS devices, and other gadgets.
Inspiration: Shares inspiring stories from professional cyclists, as well as advice on how to stay positive and motivated while training and racing.
Entertainment: Presents an entertaining and often irreverent take on professional road cycling, and looks at the lighter side of the sport.
 What Drives The Negative Reviews Of the Series?
The Cycling Podcast is too long and often meanders off-topic. There is a lot of talk about matters that have little relevance to cycling. 
I understand why some people feel that way. While the hosts can get sidetracked and the conversations can be interesting, it can be hard to find cycling-related content amid the discussions. The hosts can become overly focused on topics, making the episodes tedious and drawn out. Additionally, the topics can become too technical or specific and challenging to follow or understand. 
To make The Cycling Podcast more appealing, the hosts should focus on engaging content relevant to the sport and limit the amount of time spent discussing unrelated subjects. 
Overall Opinion On The Cycling Podcast
The Cycling Podcast is an excellent UK sports podcast that offers listeners a unique and in-depth look into cycling. It features interviews with top cyclists, coaches, and industry experts. The hosts also provide engaging commentary on important races, news stories, and sports trends. Furthermore, the show's production values are superb, providing high-quality sound engineering for each episode. As such, it provides an enjoyable listening experience for those interested in all aspects of cycling, from training tips to racing analysis. 
If you're passionate about this exhilarating sport or just curious to learn more about it, then I highly recommend giving The Cycling Podcast a listen. You won't regret it!