Subscribing to podcasts gives listeners access to automatically updated fresh episodes, thus keeping them up to date with the latest content. With different podcast niches, listening to a prominent name in the industry and hearing their insight is one of the best ways to explore and expand your venture. If you are one of the aspiring podcasters out there, you might be wondering how to prepare for a podcast guest. We are here to discuss and break down some of the basics just for you!
How To Invite Guests For Your Podcast?
Once you've decided what kind of guests will fit your podcast, it is now time to invite your guest. Searching for podcast guests is now made easier by social media. Sites like Facebook, Twitter, and even LinkedIn are just some of the social media sites where you can connect with guests in a similar niche. All the same, these sites can let you in the "network" where you can talk to more people in the same industry. Nowadays, there are even podcast guest directories where specific sites are used to look for podcast guests.
Then, it is time to make your move and invite them. Most of the time, you have to reach out to them directly. You must remember to be clear with your intentions and to highlight the subject and purpose of your podcast. Before you message them, it would be helpful if you already did your research, such as if they already have their podcast, what can you offer and why should they consider your offer.
You can learn more how to book guests for your podcast HERE.
So, What's Next?
Before preparing for the interview, there are some steps you should keep in mind. First, you must make sure that the schedule of the interview must be clear to everyone. Plus, gently briefing them of what they should expect from you and your podcast would be highly beneficial to you, as the host, and for them, as the guest.
Lastly, do not forget to assist your guest with any technical work, especially if they are the only ones recording on their end. It is best if you can provide guides and help them thoroughly with the process, so that there would be no problem with the sound and overall quality of the interview.
Preparation For A Podcast Guest Interview
Preparing for a podcast guest is an exciting process that involves careful planning and thoughtful considerations. To ensure a memorable and engaging conversation, it's important to take a few key steps for you to prepare yourself for having a guest on your podcast.
Know Your Guest
This is a vital part of your preparation, and you must give time in getting acquainted with your guest. Check out the history of accomplishments they have had together with the fields they specialized in. Research enables you not only to comprehend their distinct outlook but also gives you the chance to create inquiries that connect with them along with your audience.
Your understanding of your guest's background is key so you can successfully establish a theme or emphasis for an episode. Give careful thought to the topic of discussion and how your guest's knowledge base fits into it. Maintaining a distinct focus throughout the discussion may require defining your objectives ahead of time.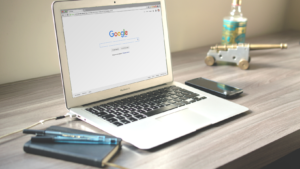 Browsing Through Twitter Advanced Search
To access this feature, go to Twitter's search bar and click on "advanced search." From there, you can enter specific search terms related to the guest's name, bio, or industry. You can also use the date range filter to find tweets from the guest over a specified period. This will give you insights into their interests, opinions, and topics they are passionate about. You can also use this research to tailor your interview questions and make the conversation more engaging.
Search and Go Over Their LinkedIn Profiles
Search for your guest's name on LinkedIn and review their profile. Look for information such as their current role, past work experiences, education, and any mutual connections. This will help you better understand their professional background and expertise. Make note of any commonalities between your guest's profile and your professional experience or interests, as this can provide a great starting point for conversation. Additionally, take note of any recent updates or accomplishments that your guest has shared on their profile, as this can be a great icebreaker or topic of discussion.
Take the time to listen to your guest's previous podcast appearance
Listening to your guest's other podcast appearances is crucial as it allows you to understand their style, personality, and expertise on certain topics. This will help you prepare better questions for your podcast interview and ensure the conversation flows smoothly. Additionally, it allows you to avoid repeating questions they have already answered in other podcasts and find unique angles to create engaging content. Doing this research can make your guest feel valued and appreciated and ultimately provide your listeners with insightful and entertaining content.

Check Your Recording Equipment
Before starting the actual recording process, you must verify your equipment. Double-check to ensure all of your gear works well.
Record the silence in your room to identify any unnoticed noises.
Position the microphone approximately 8 inches from your mouth.
Use a pop filter (if available) placed halfway between the mic and your mouth.
Check and adjust the sound levels to prevent distortion or overloading.
Conduct a practice recording to get comfortable using the microphone and identify any issues with your volume or clarity.
This way you can maintain clear audio quality, which is a must!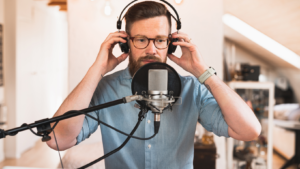 You can also make sure there's an uninterrupted internet connection. To ensure smooth communication free from any interruptions due to technical problems, you should have a Plan B in case some things may not go your way.
You can help prepare and make your potential guest more comfortable by sending a pre-interview. This way, they will have a nice overview of what to expect. Additionally, preparing yourself by gathering your thoughts results in an easier-flowing conversation that is productive as well as calm.
Write & Ask Good Questions To Your Guest
Now that you have a central theme, you can proceed on brainstorming some deep-rooted questions. Reflect on what parts of the subject matter will capture the imagination of your listeners. Formulate questions that promote candid responses from guests about their insights and experiences, and engage your audience better by adding in some personal stories or real-life examples to relate to.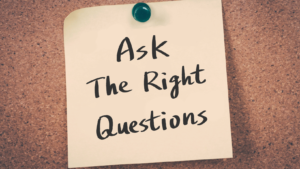 To ensure that your interview flows without a hitch, it is crucial to establish an outline or structured plan. You should arrange your inquiries and essential talking points in a logical order so that the discussion unfolds naturally. Maintaining an enjoyable flow is possible while still addressing all of the necessary aspects in this way.
Along with creating a list of interview questions, it is best if you can review any prior interviews or materials that feature your podcast guest. Try to delve deeper into unexplored territories so that it would be easier for you to avoid repeatedly asking the same questions. Indicating interest in what your guest does can open up thoughtful and illuminating discussions.
Don't Panic & Enjoy The Podcast With Your Guest
Finally, when it's time to hit the record button, you must try to establish rapport and create a welcoming atmosphere with your guest. Begin the interview with a friendly and warm introduction, and take a few minutes to chat informally. Building a connection with your podcast guest helps them (and yourself!) feel more at ease. This sets the stage for a more natural and authentic conversation. Just try to relax and let your conversation flow. You will enjoy it too, for sure!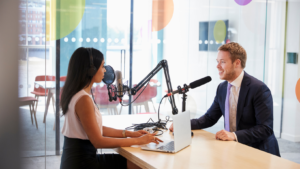 Implement The Proper Podcast Guest Preparation
We talked about the best ways to prepare for when you have chosen to get a podcast guest. To close out, you must remember that this kind of preparation requires careful research into your guest's experience and knowledge base, effective communication before recording, and pre-planning the session's format and related queries.
Providing a warm atmosphere for your podcast guests allows not only them but you as well, to feel at ease sharing their insights and shining during the conversation. By taking the time to prepare thoroughly you can create a better experience for everyone involved with your podcast.