You've finally decided to create a podcast, and you've been taking notes to gather your thoughts, create a master plan and overview, and even create some script. You might have heard of the Notion software once or twice. After all, it's one of the recommended software out there where you can not only take notes but let your creativity flow when it comes to organizing and managing your projects. The sky's the limit when it comes to Notion, and we're just getting started. Let's check out Notion and what the software entails.
What is Notion App?
Notion is widely known as a tool to take down some notes, but the features of this software are surely more than that. The concept of Notion is rooted in the development of technology throughout the decades. The mere thought of how information in a business, company, or team is consolidated and how it improves the process of the whole management is a game changer.
In the same context, the creators of Notion wanted to create a workspace where you will no longer have to open several tabs for different apps. To make things simple, the goal is to create an "all-in-one" tool.
As a podcaster, you can use Notion as an app to take notes of your outline for your podcast or even your overall personal management, which can even include your budgets and schedule. On the other hand, if you have a team with you in your podcast journey, you can simply collaborate work, delegate tasks, and organize your team by using Notion. Any form of team, business, or workgroup can utilize the app in all ways that they will require when it comes to collaboration, feedback, and updates.
Key Features Of Notion
Collaboration tools
In Notion, there is a comment section available for every block or task, which enables team members to communicate project progress, share resources, and leave notes. While using Notion, users can easily upload and share files without the need for a third-party application. Additionally, teammates can be given access to a user's calendar for better project scheduling purposes.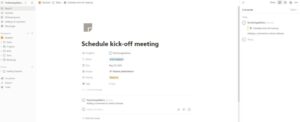 Note taking
Notion stands out for its exceptional note-taking and document creation tools which function similarly to a simplified version of Google Docs. Users can create short or lengthy write-ups on a blank page with ease. One of the perks of this attribute is that it negates the need for an external document creator since all tasks can be initiated and completed within Notion. For project management, rapid note-taking can prove to be an essential tool.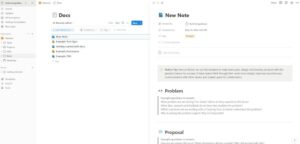 Templates
Notion has two types of templates: page templates and database templates.
Page templates are pages designed and shared by individuals, which can be duplicated in your own workspace.
Database templates allow users to create new pages within databases with pre-filled properties and content, eliminating the need for manual data entry.
Databases
Databases in Notion are like supercharged versions of spreadsheets which can store large quantities of information in an interface that is visually appealing and uncluttered. This is one of Notion's strongest features. A section in this article is dedicated to explaining the terms you'll come across while using databases in Notion. The use cases for databases in Notion are limitless and include things like a class schedule, content calendar, address book, resource library, and task manager.
Security features
Although Notion may not be the most sophisticated tool for managing projects, it offers integration options that can enhance security. By configuring custom settings, Notion can integrate with single sign-on providers, and users can employ it to manage permissions for accessing project data.
Notion employs AES-256 encryption, which is a standard in the industry, to protect data. Hosting for data storage is provided by Amazon Web Services (AWS), which maintains 24-hour security surveillance. To demonstrate compliance with various industry regulations and standards, a range of compliance-related reports are available.

How to Get Started with Notion?
When you get started with Notion, you can visualize it as your usual note-taking app where you can create reminders, and notes, and set important details. As a podcaster, you can start by creating a timetable for your podcast, making scripts, and researching for the niche that you are in. The sky is indeed the limit! Ultimately, the functions you would be using depend on how you intend to utilize this app.
After logging in, you will be directed to the welcome screen where the pages are full of tips and tutorials for certain parts of the app. It can be overwhelming at first, and it is what I felt when I first used the app. This is a hit or miss with beginners, and exploration of the app and how you can customize the app to your own can be what you are looking for in an app.
How to Use Notion: Creating Your First Dashboard
When using Notion, you will notice a light beige portion located on the left-hand side of the screen. This section serves as your navigation bar and allows you to easily access your content. If you prefer a full screen view, you can choose to hide it, but for now, it's recommended to keep it visible. To begin creating your dashboard, simply follow these easy steps:
To create a new page in your notes app, go to the "Reading List" section and click on "+ Add a page".
Once you click on this option, a new top-level page called "Untitled" will be created as a blank canvas for you to work with.
Rename your new page to something more meaningful and relevant to your needs.
When you have named your page, click on "Empty with icon" to start with a fresh canvas (aside from your title).
Lastly, the sentences above can be rephrased and structured in a list format for clarity and easy comprehension.
Customizing Your Page
To add a cover to your document in the editing tool, hover your cursor above the title. Once you do this, three options will appear: "Add icon," "Add cover," and "Add comment." Click "Add cover" and a randomly generated image will appear.
To change or reposition the image, hover over the image and select the "Change cover" option. From there, you have several options: choose from the gallery, upload an image, add a link to an image hosted elsewhere on the internet, or search and select from the Unsplash library of royalty-free photos.
To add an icon, click on the "Add icon" option and a random emoji will appear. From there, you can choose to either select a different emoji, upload an image, or add a link to an icon hosted elsewhere online. Two great sources for icons are https://super.so/icons and https://indify.co/, and once you've selected your preferred icon, simply copy and paste the link into the "Paste an image link…" section.
To add content on the page, go to the area below the page title and you will see a prompt to "Type '/' for commands." Follow the prompt and type '/', which will show you the blocks that you can select from.
Is Notion Free?: Pricing & Plans
The pricing for Notion is categorized into four. The Free tier grants you the plan where it is permanently free. For new solo podcasters or podcasts containing a small group, starting with the Notion Free plan is the best course of action. Although, this plan restricts the number of files you can store in the cloud and the collaborators you can invite.
On the other hand, the Plus plan will give you the ability to upload files without limits and will increase the number of collaborators from 10 to 100. This is best for a small team that is growing in numbers and can utilize the storage and other features of the Plus Tier. The Business plan is almost the same except the pages are more collaborative and secure. This is most important if you are holding sensitive information related to business. Lastly, there is the Enterprise plan which will require you to contact their support to assess it better.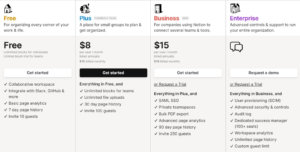 | | |
| --- | --- |
| Pros | Cons |
| Easy customization to your liking | Issues with navigating the app / Can be overwhelming |
| Ease of Access and Collaborative | Lack of communication tools |
| Multi-purpose software / All-in-one | |
| Flexible Tools | |
| Cloud-based storage | |
| Free version | |
Final Verdict On Notion
We talked about Notion, its key features, pricing, and pros and cons. The "All-in-one" concept of Notion is groundbreaking and defies the norm for note-taking apps. The software has more than evolved into a project management app that anyone can use regardless if you are a freelancer, a team member, a founder of a start-up business, and others. As a podcaster, with or without a team you can utilize Notion to manage your podcast, research your niche and topics, or collaborate with your team members for podcast-related ideas. There is nothing better than starting with this jack-of-all-trades tool.