Prepare to be captivated as we delve into the world of Rev, a game-changing platform that combines cutting-edge technology and human expertise to deliver unrivaled speech-to-text transcription services. Discover the remarkable accuracy, lightning-fast turnaround times, and innovative language processing features that make Rev a standout in the industry. Get ready to explore the next generation of transcription with Rev's powerful capabilities.
About Rev.com
Rev is an innovative tool that turns spoken words in audio and video files into written text. It uses advanced technology and human editing to ensure accurate transcriptions. It works quickly, has an easy-to-use interface, and supports different languages and file types.
Rev offers speech-to-text services that are unparalleled in quality and scalability, thanks to a unique combination of artificial intelligence and human expertise. Their clients trust them to deliver lightning-fast and extremely accurate captions, subtitles, and transcripts.
Whether you need captions, transcriptions, or language analysis, Rev is a dependable solution for converting speech to text effectively and efficiently.

How Does The Software Work?
The Rev.ai API employs cutting-edge artificial intelligence and machine learning techniques to transcribe your audio and video files with high accuracy. It achieves this by utilizing speech-to-text models to identify speakers, decipher their speech and convert it to text.
Their advanced recognition engine adds punctuation, capitalization, speaker segmentation, and word-level timestamps before returning them to you. The Rev.ai system can comprehend and process a speaker's speech, irrespective of accents, stuttering, background noise, and other noises in the audio feed.
Key Features Of Rev.com
Automated Transcription
The Automated Transcription Rev service uses advanced technology to generate transcripts automatically. However, the accuracy of the transcript depends on the quality of the audio. Background noise, volume variations, accents, and other factors can decrease the accuracy.
It's important to note that an Automated Transcript is like a rough draft and works best with clear audio. Additionally, you can download the transcript in .srt and .vtt caption formats, which can be helpful.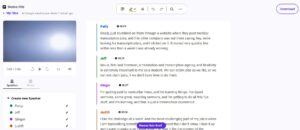 English Captions
Captions are textual representations of the audio content of a program that are displayed on the screen. They serve the purpose of helping viewers understand the auditory information when they cannot hear the sound, it is not available, or it is difficult to hear. This is particularly useful for viewers who are deaf or hard of hearing.
Rev's caption service takes an English video as input and generates English captions that viewers can choose to display or hide. In simpler terms, when you place a caption order with Rev, you receive captions in the same language as the source video, allowing viewers to enable or disable the captions as needed.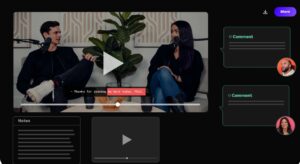 Global Translated Subtitles
While captions and subtitles are similar, there is a distinction between the two. Captions focus on transcribing dialogue and other essential audio content into text, making it accessible to viewers. On the other hand, subtitles involve transcribing and translating dialogue spoken in a different language, enabling viewers to understand content in languages they may not be familiar with.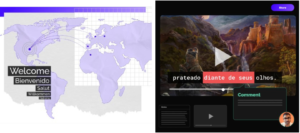 With Rev's global subtitle service, you can provide an English video as the source, and they will create captions in a different language. Rev currently supports translation into a variety of languages, including Arabic, Chinese (Simplified and Traditional), Czech, Dutch, French, German, Hindi, Italian, Japanese, Korean, Polish, Portuguese (Brazil), Russian, Spanish (Latin America and Spain), and Turkish. It's important to note that Rev does not currently offer translation or captioning services for non-English videos, but they may consider expanding their services to include other languages in the future.
Custom Glossary Feature
Users have the ability to generate a personalized glossary, ensuring the precise spelling of names and technical terms. Rev has developed this feature to empower you to directly influence the quality of your transcripts.
Provide the correct spellings of terms or phrases that you anticipate appearing in your audio/video files and may pose transcription challenges. These submitted terms or phrases will be integrated into their speech recognition system for all automated transcript orders.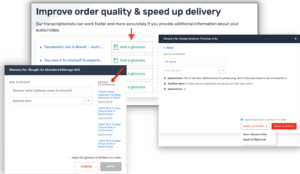 Additional Features
Unlimited Zoom meeting transcripts
With a subscription to RevMax, users unlock the benefits of an advanced Zoom integration. This integration seamlessly transfers Zoom cloud recordings to Rev, ensuring unlimited transcripts. This feature empowers users to effortlessly search and access quotes, statistics, and other crucial details from their Zoom meetings, making it convenient for referencing or future utilization.
Mobile app and in-browser recorder
Rev offers users the convenience of a mobile app and an in-browser recorder, enabling effortless recording of interviews and seamless automatic transcription.

How To Use
Transcribing a File
To transcribe a file, follow these steps:
Sign in to your Rev account by logging in at the designated location.
Access the "My Files" section and click on "Place New Order." Then, select "Auto Transcripts" to initiate the process of uploading your audio or video files for transcription. Ensure that you utilize your Rev Max subscription for this purpose.
After a few minutes, the completed transcripts will be generated and available for you to view on your "My Files" page.
Setting Up and Using Zoom Integration
Once you have subscribed, navigate to the Home screen and locate the "Free Zoom Transcripts" box on the right side. Inside this box, you will find the option to link your Zoom Account.
Upon selecting the "Link Zoom Account" option, you will be redirected to the Get Started Zoom Integration Page. On this page, you can easily follow the steps below:
Connect your Rev account with your Zoom account.
Set up Zoom Settings
Ensure the following Zoom settings are enabled for the Zoom integration to function properly:
Cloud Recording Enabled

Record Video Enabled

Record Audio Transcript Enabled
For Zoom Business, Business+, Enterprise, or Education Customers, it is necessary to enable specific Zoom settings to access enhanced speaker identification capabilities. • Additionally, ensure that the "Record Audio Transcript" option is enabled.
Please take note that in order to utilize the app, users are required to enable cloud recording for their Zoom meetings.
After completing the aforementioned settings, the Zoom integration will be ready for use. When conducting your next Zoom meeting, ensure that you record the meeting to the cloud by selecting "Record" and then "Record to the Cloud". Once the integration setup is completed, Rev will automatically transcribe all cloud-recorded meetings. The resulting automated transcripts will be easily accessible in the "My Files" section on Rev.com.
Enhancing Transcript Accuracy with Its Custom Glossary Feature
To access your Rev account, please log in at the provided location.
Navigate to the left-hand navigation and click on "Manage Glossary."
Add one phrase per line, ensuring each line contains only English letters, spaces, hyphens, and apostrophes.
Pay particular attention to proper nouns and words specific to your field or domain.
Rev Pricing
Automated Transcription: It costs $0.25 per minute and is great for personal use. The turnaround time is quick, only 5 minutes.
Human Transcription: It costs $1.50 per minute and is ideal for published content. The turnaround time is typically 24 hours.
English Captions: It costs $1.50 per minute and usually takes about a day to complete. Its goal is to make videos more accessible.
Global Subtitles: The price varies from $5 to $12 per minute based on the language. It takes 48 hours on average and achieves 99% accuracy.
Rev for Business
It's a business solution for customers with large transcription, captioning, or subtitling requirements. This service provides discounts for high volumes, central billing, a dedicated customer success manager, advanced team management, and priority support.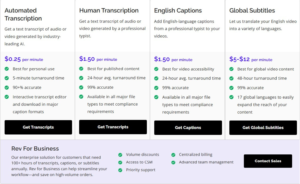 | | |
| --- | --- |
| Pros | Cons |
| Transcripts generated with a rapid turnaround time of just 5 minutes | Slow response times of Rev's customer service |
| Superior accuracy in transcribing audio content | |
| Custom glossary feature enabling the inclusion of specific names and terms | |
|  Interactive editor tool for convenient editing and customization of transcripts | |
| Integration with Zoom for effortless transcription of Zoom meetings | |
Read also: Otter.AI Review

Bottom line
Rev is a powerful speech-to-text software that offers rapid and accurate transcription. With seamless Zoom integration, a custom glossary feature, and an interactive editor tool, it simplifies and enhances the transcription process. While Rev Max provides 20 hours of automated transcription per month, some users have reported slower customer service. Overall, Rev saves time and ensures precise transcriptions for your audio and video content.