In the past, people had to rely on manual processes to complete their work. However, the current generation benefits from the convenience of automation tools, making their tasks much simpler. This is especially true for those who conduct phone interviews and need to transcribe their audio files into text format for publication on the web. Among the most popular transcription software available today is Express Scribe, which is widely used by transcribers. 
Discover more about the automated transcription software Express Scribe by evaluating a commonly used online tool. Continue reading to learn more.
Overview Of Express Scribe
Express Scribe is a transcription software that is utilized by typists all over the globe. This software enables users to closely listen to audio recordings and transcribe them accurately and effortlessly. It includes various features like control over playback speed, integration with speech-to-text engines, and pedal control. Express Scribe supports multiple file formats, which can be loaded from CD players, local hard drives, and LAN.
Additionally, it also allows users to transfer audio recordings from handheld recorders with ease. NCH Software develops the software and is available for download on Mac devices. It has also been available on the new operating system, Windows 11. 

How Does Express Scribe Works?
To start transcribing, you can choose a dictation file or an audio recording, as both formats are supported by the tool. Even song lyrics or movie subtitles can be transcribed using this software.
With the text editor in Express Scribe, users can type out their transcription and save it in various file formats. The software can be used with an external pedal board to quickly stop and resume playback and adjust tempo without having to touch the PC. If pedals are not preferred, hotkeys can be used instead.
Additionally, the software can be paired with a speech synthesis program and with the "From speech to text" function, a draft transcript can be automatically created when receiving a dictation.
Key Features Of The Software
Audio File Support
Express Scribe can handle a variety of audio formats, including DSS, WAV, and MP3, eliminating the need to use another application for file conversion. It is unnecessary to convert your audio or video file into a different format as Express Scribe can handle it. 
Variable Speed Playback
If the playback speed of the recording is not suitable, you can modify it using the speed adjustment feature in Express Scribe. The Jump Time feature in the software is handy when editing and requires revisiting a particular audio segment.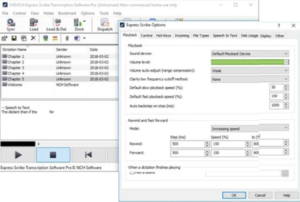 If you encounter an indistinct speech, you can utilize the Special Audio Process feature in Express Scribe to enhance the audio. This feature enables you to amplify the volume, alter the pitch, eliminate background noises, apply a high pass filter, or reverse any alterations made to the audio. 
Retrieve Recordings Automatically
You can utilize the Express Scribe tool to download content from a local server or FTP automatically. Before using it, you need to set up the mode of receiving files. The tool provides three options: downloading one or multiple files manually or downloading all available files automatically. Additionally, you can insert deadlines and bookmarks to dictations as needed. 
Advanced Integrations
Express Scribe provides advanced integrations for all endpoints, allowing users to continue using their current hardware and software. Additionally, it seamlessly integrates with other word processors such as Microsoft Word and Corel Wordperfect. Integration with third-party apps to improve typing speed is also effortless. 
Foot Pedal Control
The app makes it simple to incorporate your current hardware and software, such as foot pedals. By attaching a foot pedal to your computer, you can use it in conjunction with the app to allow your fingers to concentrate on typing while your feet control playback. Utilizing a professional foot pedal will help you improve your typing speed.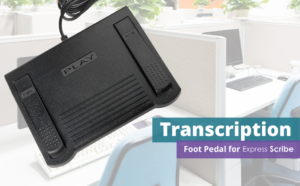 Speed
Express Scribe has the ability to integrate with several transcription services, allowing for automatic delivery of completed work to clients. This eliminates the need to switch to another application and streamlines the entire process. 
Customizable Interface
The user interface of Express Scribe is simple and easy to use, with features that resemble an audio player. Users can easily navigate and explore the software without any difficulty.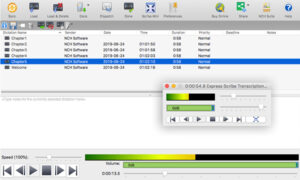 To make transcribing audio files more enjoyable, users can customize the app's interface by changing the colour scheme and layout, resulting in a more visually appealing screen.

How To Use The Express Scribe Software
System Requirements
Works on Windows 11, XP, Vista, 7, 8, 8.1 & 10

macOS 10.5 or above

Sound Card or Integrated Sound Support

Optional – Foot Pedal Controller

Optional – SAPI Speech Engine

Optional – Internet to automatically receive files
Supported Hardware
AltoEdge USB Foot Pedal

Infinity USB Foot Pedal*

VPE USB Foot Pedal*

Olympus RS27 Foot Pedal*

3 Pedal Waterproof Foot Control*

USB Dictation Controller*

USB vDictate*

USB Philips Speechmike Controllers*

Wireless SpeechMike Air*
* Requires Express Scribe Pro
How to Use The App To Transcribe
To begin, download Express Scribe software.

Install the software on your computer.

Go to the Control Panel and select "Ease of Access", then choose "Speech Recognition."

Click "Start Speech Recognition" to enable this feature on your Windows system.

To enable speech recognition in Express Scribe, open the software and go to "Options."

Select the "Speech to Text" tab and add the default profile that recognizes your speech pattern.
To transcribe an audio file using Express Scribe, import the file by clicking on Load and selecting the file.
If using a portable recorder, connect it to your computer using the appropriate cable and click on Enter/Dock.
Start transcription by playing the audio file and typing in the Enter the notes for the currently selected dictation here field.
Use the pause, stop, and advance commands to control playback.
Adjust playback speed with the cursor near the Speed item and adjust volume with the slider under the Volume item.
Save your transcript by clicking on the floppy disk icon.
To set up global hot-keys, navigate to Options > System-Wide Hot-Keys within the software.
Alternatively, if you have a transcription foot pedal, set it up within the software.
You can drag and drop audio or video files directly into the player, or use File > Load Dictation Files to browse for files on your computer.
Once your file is loaded, use hot-keys or the foot pedal to control playback.
The default hot-key to play a recording is F9, while F4 is assigned to stop playback.
F7 is set to rewind, and F8 is for fast-forward. To use these functions, press and hold the assigned key.
How to Use Express Scribe with a Foot Pedal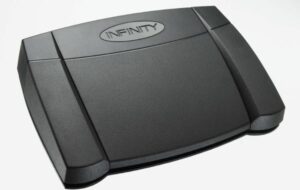 To connect your USB foot pedal to your computer, plug it in via USB or your preferred port.

Open Express Scribe and navigate to Options > Controller > Controller Setup Wizard.

Ensure that your foot pedal is connected before clicking Next.

The foot pedal should appear in the "Plug and Play" devices list; if not, switch to the Legacy tab and select the appropriate option.

You will reach the "Controller Properties" page, where you can see the company name, model, interface, and buttons of your device.

Click "Next" to proceed to the Controller Command Map/Test page.

Press the pedals/buttons on your foot pedal, and they should register under the "Pressed" column.

You can edit a command by selecting it and clicking "Change a Command."

Finally, click Finish to return to the Options > Control dialog box and check "Enable tap lock" under the Tap lock option.
How to Use Express Scribe to Add Time Stamps?
Time stamps can be extremely useful as they allow podcasters to mark any words that are inaudible or indiscernible for client review. Additionally, it can be a useful tool for reviewing the transcript and improving its accuracy. To insert accurate time stamps, you can use the hot-key function in your text editor.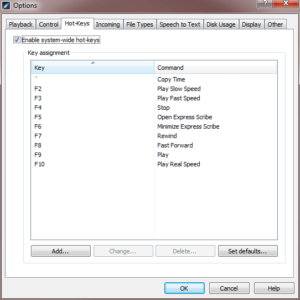 To set up hot-keys in Express Scribe, first open the program and go to Options, then System-Wide-Hot-Keys.

Ensure that the Enable system-wide hot-keys option is checked.

To add a new hot-key, click on the Add button and select Copy Time from the Command drop-down list.

Click on the Change button under Hot-Key and press a key or key combination on the keyboard.

Click OK to save the hot-key settings and exit the dialog box.

To add a timestamp, simply press the assigned key and either Ctrl+V or right-click to paste the time stamp into your document.
How Much Does Express Scribe Cost?
Is Express Scribe free?
Express Scribe is a free software that is specially made for transcription purposes. Although it offers many features, there is a paid version that is required if you intend to use it for commercial use. 
The free version is easy to use and compatible with popular audio formats like WAV, MP3, WMA, and VOX. Additionally, it can be used with AltoEdge foot pedals. 
However, it does have several significant disadvantages.
does not offer support for foot pedals that are not manufactured by AltoEdge.

has limited compatibility with digital recorder formats such as Sony, Philips, Grundig, and Olympus.

does not support video playback.

not licensed for use by corporations, government agencies, or enterprises.

Users of the free version do not have access to technical support. 
Pro Edition
For those looking for more advanced features, the Pro edition is available for a one-time fee of $60. This version includes variable speed playback, supports both audio and video playback, and is compatible with various audio file and digital recorder formats. It also allows for the use of hotkeys for quick playback when transcribing into programs like Word.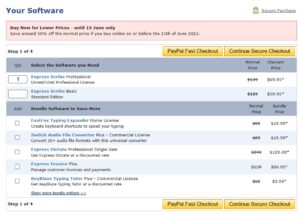 Add-Ons
Express Scribe has several add-on programs that can enhance your experience. These add-ons are available at discounted prices.
HourGuard Timesheet Software ($12.99 as a bundle price) – Track your hours effortlessly.

Wave Pad Sound Editor ($49.99) – Offers video editing, batch processing, and more.

Express Delegate ($249.00) – Monitor the status of jobs and more.

Sound Tap Stream Recorder ($14.99) – Record audio on your computer and save it to WAV or mp3.

Dial Dictate ($59.95) – Offers tools for easy telephone dictation.

Express Scheduler ($19.99)- A detailed schedule maker.
| | |
| --- | --- |
| PROS | CONS |
| Free to use and download. | Absence of an auto-correct function in the writing section |
| Can accommodate various audio formats. | Interference of shortcuts with other applications' shortcuts. |
| A dock for portable recorders. |   |
| Compatible transcription foot pedals |   |
| Has convenient shortcuts for playback. |   |
| Includes an "auto backstep on stop" feature. |   |
Also Read: SpeechText Review 
Final Verdict
Express Scribe is a software designed to aid in audio transcription, offering numerous tools to make the process more efficient. Although it requires a subscription fee, the software provides essential features for seamless transcription, and the fee is a one-time payment that grants access to future updates. The integration of a foot pedal is a significant advantage, freeing up your hands to focus on typing. We strongly suggest using Express Scribe for audio file conversion.