When it comes to podcasting, Skype is the go-to tool for connecting hosts and guests. It lets you easily record podcasts that reach a wide audience. In this comprehensive guide, we'll show you how to record a podcast using Skype with these simple steps. Get ready to explore Skype-powered podcasting, where your voice tells amazing stories.
Key Requirements in Recording a Podcast Using Skype
Recording a podcast using Skype requires a few essential things to make sure your recording goes smoothly and sounds great.
Skype Account
If you currently don't have a Skype account, it is suggested that you create one. This involves signing up for a new account on the Skype platform. Signing up is free.
Stable Internet Connection
Having a reliable and stable internet connection is essential for uninterrupted communication during podcast recording. It is highly recommended to use high-speed broadband or Wi-Fi to ensure a clear and seamless conversation.
Microphone and Headphones
For a top-notch podcast, make sure you have a good microphone for clear and professional audio. USB microphones are popular and easy to use. Also, use closed-back headphones to monitor the sound while recording. They help catch any issues or strange sounds in real-time. Improve your podcast's quality with the right equipment.
Recording Apps or Softwares
When it comes to recording using Skype, you have different options to choose from. You can utilize the built-in features within Skype (if available), explore third-party recording solutions, or consider dedicated podcast recording apps that work well with Skype.
Test Calls
Before starting to record your podcast episode, it's a good idea to do some test calls with your guests or co-hosts. This way, you can make sure that everyone's audio is clear and set up correctly. Testing helps you detect any technical problems or make adjustments before the actual recording session.
How To Record a Podcast Using Skype
Skype has recently introduced a convenient recording feature that allows you to effortlessly save your calls and edit them for your latest podcast episode.
Record podcast using Skype itself.
Record podcast using Skype's Built-In Call recorder feature.
Record podcast using call recording software.
Record podcast using Double-Ender audio equipment recording tools.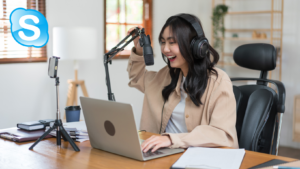 Using Skype Itself
Skype was unable to record calls before, but this changed during the middle of 2018. It is now capable of recording Skype calls, which can be used for various purposes such as podcasts.
Click on "Record" during a Skype call.

A notification will appear to let everyone know that the call is being recorded.

You have the option to stop the recording before concluding the call, or the recording will automatically stop when the call is over.

If you have been on an audio-only call, the recording will be saved in an mp4 format. However, it can be converted into an audio file by dragging it into your podcast editing software.

It will be saved in your chat and will be accessible for 30 days. Within the 30 days, you can download and save the recording to your device.
Sharing a Skype Call Recording
From your chat, click on "More options" and select the desired option.
Select "Forward" to share the recording with another chat.

Using Skype's Built-In Call Recorder Feature
Skype offers its own call recording feature which makes it easy to record audio and video calls of up to 25 participants. This uncomplicated tool enables you to capture your conversations effortlessly.
Tap the "+" button located at the bottom of the screen.
From the options that appear, select "Start Recording."

Once you've initiated the recording, an announcement banner will appear at the top of the screen, indicating that the conversation is being recorded.
Using Call Recording Software
If you want to capture HD video content easily and reliably, you should consider using call recording software. However, there are various options of video recording software available, so it's crucial to research and compare them before choosing one. Apart from providing high-quality audio and video output, call recording software typically has integrated editing and publishing features that can help optimize your workflow.
Upon pressing the 'Record' button, the software automatically saves the audio as an editable MP4 or WAV file.
List of Skype's Best Call Recorder
TalkHelper is a user-friendly call recording tool specifically designed for use with Skype. It enables users to easily manage and save their Skype voicemails and video messages, making it a popular choice for both personal and business purposes.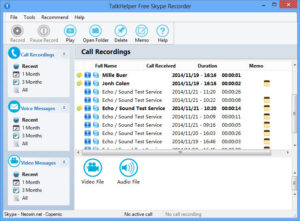 This software allows you to save Skype video calls and screen shares as AVI files with XVID codec support, while audio calls can be saved in either WAV or MP3 format with the option for mono or stereo recording.
Using TalkHelper is quick and simple. After installation, you just need to open the software and Skype, then make a call and hit the "Record" button on TalkHelper to start recording your conversation.
For Mac users searching for a solution to record Skype or FaceTime calls, Ecamm proves to be an excellent choice. It caters specifically to ones who prioritize simplicity and ease of use for call recording, rather than more advanced features like creating intricate screen-capture videos.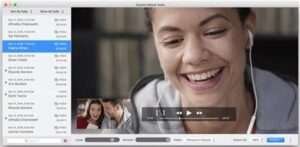 As soon as you press the 'Record' button, the audio will be saved as an MP4 or WAV file, which can be edited at a later time. Please note that in order to utilize this application, two devices are required.
Gilisoft Screen Recorder Pro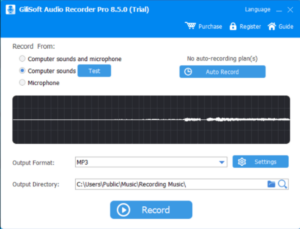 With Screen Recorder Pro, you get a versatile tool that combines recording and video editing capabilities. It offers support for High DPI screen capture and real-time video file compression. The built-in editing features allow you to effortlessly cut and splice video clips, apply filters and effects, and incorporate graphics and music into your recordings.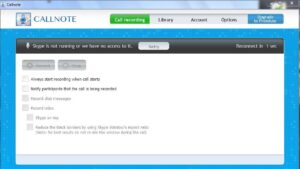 Callnote is an excellent choice for automatically recording all of your Skype calls. It offers unlimited recording length, a built-in editing suite, and an automated transcription service for adding captions to your videos. It also provides features like screenshots, recording storage management, and audio-to-text transcription. With Callnote, you have a comprehensive solution for capturing and managing your Skype calls efficiently.
Using Double-Ender Audio Equipment Recording Tools
The double-ender recording technique involves both individuals independently capturing their own side of the conversation. These files can later be combined during production, resulting in an audio that appears to have taken place face-to-face rather than online.
To utilize this method, you can utilize double-ender tools that enable manual recording via Skype.
Simply initiate a regular call and have both users open the software while keeping it active simultaneously.
After the recording process, merge the two files into a single track during the post-production stage.
Enhance the audio quality by fine-tuning the levels and incorporating any essential effects.
Here are 3 of the top choices for podcast recording equipment.
The Podtrak P4 is ideal for recording one-on-one conversations or interviews, with the ability to capture high-quality audio from two devices.
The Zoom H6 is perfect for group recordings of up to six people, with four XLR inputs for external microphones. It also has recommended settings to help you get started.
The RØDECaster Pro is an all-in-one recorder for professional-level podcasts with multiple participants, able to record up to eight tracks at once and equipped with four microphone inputs. It also has multitrack support.
| | |
| --- | --- |
| PROS | CONS |
| Simple setup for podcast recording | Time restrictions for longer podcasts |
| Cost-effective | There is a chance for possible difficulties with technology |
| High-quality recordings | Limited effects, may need additional software for advanced editing |
| Convenient for podcasters | Background and unnecessary noise can affect recording quality |
| Open to and within reach of individuals with an internet connection | |
Easy Steps to Successfully Record a Podcast Using Skype
To sum up, recording podcasts on Skype is a simple and budget-friendly choice. Its intuitive interface and diverse recording options allow for capturing high-quality conversations effortlessly. We have discussed the hows of podcast recording on Skype, whether you utilize the built-in features or external tools, Skype provides everything you need for a smooth podcasting experience.