Enhance your podcast's look and engage your audience with Canva.com! This review will walk you through Canva's easy-to-use platform, featuring tons of templates and customization choices. Whether you're a design pro or a newbie, Canva.com is the perfect tool to unleash your creativity. Join us as we explore the full review of Canva.com and learn why it's the top choice for professional-quality designs!
What Is Canva
Through an intuitive interface and drag-and-drop editor, Canva simplifies visual content design work in an online cloud-based application. The platform offers a wide range of pre-built templates, layouts, stock images, vector graphics, illustrations, and fonts that can be used for various projects. It is an amazing online tool for podcasters to make their graphics look fantastic. Whether you need eye-catching artwork for your episodes or engaging graphics for social media, Canva.com has everything you need.
The best part is that you don't need to be a design expert to use it. Anyone can create professional-quality designs for podcast covers, promotional materials, and social media posts. This helps podcasters stand out and make a bigger impact in the podcasting world. Canva.com is a game-changer for podcasters who want to improve their visual presence and make their podcasts more memorable.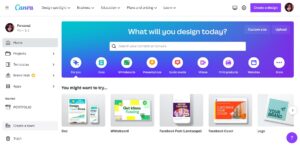 How Does Canva Software Work?
Initially, Canva was developed as a web-based application that offers a user-friendly option for creating exceptional designs that are otherwise complicated to produce using intricate software programs like Adobe, Photoshop, among others.
The platform has a vast collection of texts and images, and its projects can be saved and resumed later without any loss of progress. With over 15 million customizable templates, it offers designs that cater to the specific needs of your project and adapt to the size required for publishing.
To access all its features, registration at Canva.com is necessary, which can be done using your Google or Facebook account or email. Furthermore, its design features are also accessible on both Android and iOS platforms.
Key Features
Canva app is packed with features that greatly enhance your design experience. Here are some of the standout capabilities it offers:
Canva Dashboard
Canva has dashboard to track the performance of your templates and elements. To access the Canva design toolbar, you must select the option to create or edit a design. The left-hand section of the Canva design toolbar contains various features such as fonts, images, videos, and tools to upload your own content, which are crucial in designing your project.
Templates – Canva provides a massive library of templates, with over 50,000 options available for users to select, edit, and personalize.
Elements – includes various design components, such as lines, shapes, graphics, stock photos and videos, charts, frames, and grids.
Uploads – This section has two functions: the first allows users to import files to use in their designs, while the second enables them to record themselves via webcam or screen capture.
Photos – It consists of a vast collection of stock images that can be incorporated into designs.
Text – This section enables users to add different types of text to their projects, including options saved in their pre-set brand kit.
Styles – It includes trending and curated color and text combination options to streamline design processes, as well as brand-kit color choices and texts.
Backgrounds – There are numerous options for themed experiences to select from.
Brand Hub
With Canva's Brand Kit feature, you can maintain consistency in your designs by applying brand kits. These kits contain all your brand elements, such as colors, fonts, and logos, and can be easily applied to any piece of content. By using brand kits, you can ensure that your designs align with your brand guidelines and maintain a cohesive visual identity.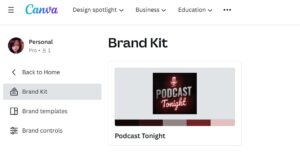 Photo Effects
Canva offers various tools to improve your photos, including effects that can be applied to both Canva-provided and uploaded photos. These effects can be found at the top of the editor once you've selected a photo, allowing you to flip, crop, filter, and adjust aspects like brightness, contrast, saturation, tint, and blur. The effects tab also provides additional options such as Duotone, Background Remover, Liquify, and more. While most effects are available with the free version, some features, like Background Remover, may require a subscription plan.
Background Remover
With Canva's background remover feature, you can easily remove backgrounds from images with just one click. Whether you want to modify your own photos or choose from the free library provided by Canva, this feature allows you to focus on the main subject of your design by eliminating distracting backgrounds.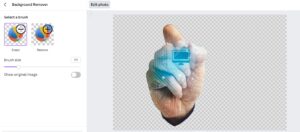 Magic Resize
Save time by designing your content once and effortlessly export it in the perfect dimensions for different platforms. This convenient feature automatically adjusts the size of your design to fit various platforms, eliminating the need for manual resizing and ensuring your creations look great everywhere.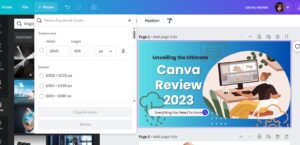 Magic Eraser
Removing unwanted objects or people from photos is a simple task with the use of Magic Eraser. You can enhance your travel photos, showcase your products effectively, and improve your social media posts by eliminating unwanted elements. Magic Eraser allows you to delete distractions in just a few brush strokes.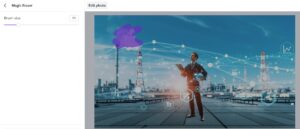 Magic Edit
Canva's Magic Edit, which is powered by Stable Diffusion, allows you to enhance your photos using AI image editing. With just a few brush strokes and keystrokes, you can add anything you can think of to your image. For example, you can make a glass of lemonade more enticing by including a fruit slice, add a sun to a dull sky for a warmer feel, or give someone sunglasses to obscure their identity.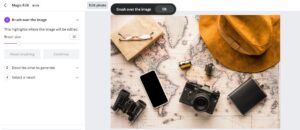 Drag-and-drop Editor
Creating visuals with Canva is a breeze thanks to the user-friendly drag-and-drop editor. Whether you're working with photos, videos, templates, elements, or fonts, simply select what you need, and Canva will show you all the relevant options. Adding and modifying them is a breeze with the drag-and-drop method, allowing you to create stunning visuals in mere minutes. If you're familiar with the templates, you can create them in seconds.
Animations
Add a touch of life to your designs with Canva's collection of over 14 animation styles. These animations are specifically designed to make your visuals stand out and create a more engaging and creative experience for your audience.
Premium Video
Produce high-quality videos without the need for expensive professional video production. With this feature, you can create visually stunning videos that capture the attention of your audience, all while keeping costs low.

Content Planner
Stay organized and streamline your social media strategy by scheduling your posts in advance. With this feature, you can plan your content calendar, schedule posts for specific dates and times, and track their performance. It enables you to stay consistent, save time, and analyze the effectiveness of your social media efforts.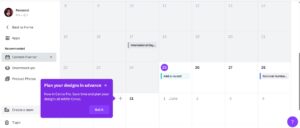 Design Sharing
Share your designs effortlessly with others by using the simple sharing feature. Whether you want to collaborate with team members or present your work to clients, this feature streamlines the sharing process. With just a few clicks, you can easily send your designs to others, allowing for seamless collaboration and efficient communication.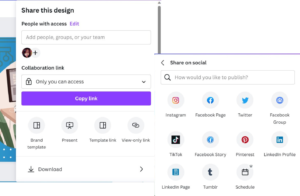 Folders and Storage
Access 1TB of cloud storage to conveniently organize and manage all your Canva content and imported designs. This generous storage capacity ensures that your files are well-organized and readily available whenever you require them. With this feature, you can easily navigate through your designs and efficiently store and retrieve your files whenever needed.
How To Use Canva
To access your home screen on Canva, log in to your account.
Browse through the hundreds of templates available or use the Search function to find a specific one you need.
If you want to add photos, select the Photos option from the toolbar on the left and enter a search term to find suitable images.
After you find the image you need, simply drag and drop it into your design, resize it, and customize it using the toolbar at the top of the screen
If the image has a Canva watermark, it means it is a Premium image that requires payment. To purchase the photo, click on Remove Watermark.
To add text, select the Text option from the toolbar and drag and drop it into your design. You can change the text's font and alignment by selecting it and using the toolbar at the top of the screen.
You can utilize the same toolbar to modify the font color, spacing, alignment, and other text formatting.
To include more elements in your design, select Elements from the toolbar and choose from a range of options available.
Various Canva design elements such as grids, charts, frames, shapes, gradients, illustrations, and lines are available. To adjust the position of a shape, select the Position option and choose a new position from the provided menu. You can also change the layer of the element by moving it forward or backward.
Once you are satisfied with your design, share it with others. Click on Share, enter an email address, and choose whether the recipient has edit or view-only permissions.
Finally, to download your design, click on the Download icon in the toolbar and select the file type you prefer.
Plans & Pricing
Is Canva Free?
Yes, Canva offers a free version with a variety of design tools and features. With the free version, you can access numerous design templates for different purposes and customize them to create your designs. There is a collection of free images, graphics, and videos to enhance your designs. Basic editing tools are available for image adjustments. You can collaborate with others by sharing your designs.
However, the free version has limited storage space, and some advanced features and premium assets may require a Canva Pro subscription.
How Much Is Canva Pro? For Teams?
Canva Pro provides excellent value for its price. It is offered at $119.99 per year and includes all the features of the free version, as well as brand kit upload options, Magic Resize functionality, access to over 420,000 templates, 75 million graphics, and videos, design saving for teams, 100GB of cloud storage, and social media scheduling for seven platforms.
Canva also offers a team version with variable pricing, starting from $14.99 per month for up to five users.
| | |
| --- | --- |
| Pros | Cons |
| Easy to use and navigate. | Limited options for customizing branding. |
| Lots of ready-made templates to choose from. | Some features require a paid subscription. |
| Access to a wide variety of images and graphics | Requires an internet connection to use. |
| Can collaborate with team members. | Not as much control over design elements as professional software. |
| Can easily share designs on social media. | |
Also Read: Dall-E Review ( A system powered by artificial intelligence is capable of generating authentic images and artwork based on a given description)
Final Verdict
Canva is a fantastic design tool for podcasters. It's easy to use, offers tons of templates and images, and allows for collaboration and sharing. While the free version is great, upgrading to Canva Pro unlocks even more features. With Canva, podcasters can create eye-catching visuals to enhance their shows effortlessly.
Overall, we highly recommend Canva.com as a top-tier podcasting design tool!