The "You, Me, and The Big C" podcast is an incredible resource for cancer patients. This podcast features inspirational and powerful interviews with people living with cancer, their friends and family, and healthcare professionals. It's an emotional and informative listen that will leave an impression. In this review, we'll discuss some of the most moving episodes and provide a glimpse into the heartwarming and inspiring stories you'll find on the show.  
You, Me, and The Big C Podcast Content
You, Me and the Big C is a British podcast that focuses on various aspects of cancer, including life with the disease, treatment options, and other related topics. The podcast is hosted by former or current cancer patients who share their experiences with listeners. The show's original hosts were Deborah James, Lauren Mahon, and Rachael Bland.
Sadly, Bland passed away from cancer in September 2018, leaving James and Mahon as the remaining co-hosts. Despite this loss, the podcast continued to provide valuable insights into the world of cancer and the challenges that come with it. However, the show faced another blow when James lost her cancer battle in June 2022.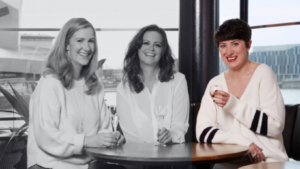 Despite these tragedies, the podcast has remained an important resource for cancer patients. The hosts shared their experiences, offered practical advice, and discussed various topics related to the disease. In January 2023, it was announced that Mahon would be stepping down from their hosting duties but expressed their desire for the podcast to continue.
What Makes This Podcast Special
One of the best things about the You, Me, and the Big C podcast is how relatable it is. Hosts Deborah James and Lauren Mahon discuss their own experiences with cancer and those of their guests. Listening to their stories gives a real insight into what it's like to live with the disease. 
It's refreshing to have a podcast where topics such as death and illness are discussed honestly and openly but still in a positive, light-hearted atmosphere.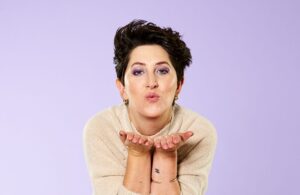 Each episode features inspiring stories from survivors and those fighting cancer, giving listeners a source of strength and courage to keep going. Guests offer their perspectives on how to stay positive and focused on hope, even in difficult times. Through interviews and conversations, the podcast provides a valuable reminder that there can be light at the end of the tunnel and that it's okay to keep moving forward, no matter how hard it may be. 
Hosts demonstrate immense empathy, warmth, and understanding during each episode while discussing each guest's story. It features uplifting stories of recovery, progress, and strength in adversity. The conversations are heartbreaking and heartwarming, providing comfort and hope to those going through similar experiences. It will surely bring a tear to your eye but ultimately leave you feeling inspired and encouraged.

5 Most Memorable Episodes Of The 'You, Me, And The Big C'
About Getting Men Talking
In this episode, Steve Bland discusses why men sometimes struggle to talk and share their stories. He is joined by Danny de Brabander, who has stage four bowel cancer, and Joe Bellman, whose mother passed away from cancer in late 2019, to discuss the challenges and benefits of sharing their experiences. The episode also features grief expert and counsellor Jenni Thomas OBE, who explains why men might struggle to open up about their grief and trauma.
The discussion emphasizes leaning on friends for support during tough times. The episode aims to encourage men to speak up and share their stories.
About Our Debs
In this episode, the hosts talk with Deborah James. She is an incredible friend, broadcaster, campaigner, fundraiser, author, computer scientist, and even a Dame!
Deborah has bravely shared her journey with incurable bowel cancer for over five years, inspiring many others with the same diagnosis. She is a true champion of raising awareness and speaking up about cancer, and her courage and strength are truly inspiring.
About Deborah's 13th Operation
In this episode, Deborah discusses the recent changes in her cancer diagnosis with her friends Lauren and Steve. The trio discusses the complications of the changes and the necessary adjustments to Deborah's treatment plan. They also discuss the next steps Deborah needs to take in her cancer journey.
Additionally, the episode features a conversation with Deborah's mother, Heather, who shares her perspective as a parent of a cancer patient. Overall, the episode provides insight into the challenges and adjustments of a cancer diagnosis and the importance of support from loved ones.
About The Last Five Years
They celebrate the fifth anniversary of this popular podcast, You, Me, and the Big C. The hosts tell us that this podcast has brought listeners a candid look into cancer-related conversations. In fond memory of Bland, Dame Deborah James, and countless guests, the podcast has brought us some of the funniest, proudest, and toughest moments in cancer care over the past five years. Whether in the form of poignant or comedic conversations, You, Me, and the Big C has proven to be a major source of comfort for many.
About Pancreatic Cancer
Dr. Naureen Starling is a Consultant Medical Oncologist specializing in treating gastrointestinal cancers. Cariad Lloyd, the presenter of the Griefcast podcast, has also joined the conversation in this episode, having lost her father to pancreatic cancer at a young age. Debs, Lauren, and Steve are entering them in this candid discussion – all coming together to raise awareness about this disease and its impact. They talk openly and honestly about the often misunderstood experiences of those living with pancreatic cancer and those left behind.
They ask questions and seek answers, but more than anything, they find strength in each other's stories. It's an incredibly honest episode demonstrating why this podcast is an essential resource for pancreatic cancer patients.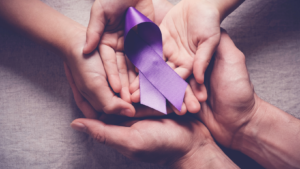 Parts Of The Podcast I Don't Enjoy
I recently stumbled upon a podcast that has become my go-to source of information and inspiration. It is so informative and helpful that I listen to it repeatedly. I have to say, there is really nothing negative to say about this show. From the hosts to the guests, everyone is knowledgeable and passionate about their subject matter. The covered topics are timely and relevant, and the advice is practical and actionable.
The only thing I find sad about this podcast is when they stop it. I always look forward to the next episode and constantly check for updates.
I have recommended this podcast to all of my friends and family. They have also become hooked. It is truly a gem in the world of podcasts, and I cannot recommend it enough. 
You, Me, And The Big C Takeaway
The You, Me and The Big C podcast is a must-listen for cancer patients. The raw and honest conversations between Steve, Lauren, Deborah, and their featured guests provide powerful testimonies on cancer and life. 
Listening to this podcast, we gained a deeper understanding of the challenges people with cancer face and how they cope. The stories of hope, strength, and resilience will inspire anyone going through a tough time. 
We highly recommend this podcast to anyone looking for an authentic discussion on cancer. You can listen to it on platforms like BBC Sounds, Apple Podcasts, and Spotify. Please tune in to this podcast; we are sure you will feel empowered and inspired.