Descript is a popular software platform that can simplify editing your videos by seamlessly integrating audio and providing corresponding text. For podcasters and vloggers, crystal-clear audio is essential to keep their audience engaged. Poorly edited products with garbled audio and the lack of subtitles can turn off potential customers. 
 In this Descript review, we will explore the capabilities of the software and what users can expect to get from it. Ultimately, the question is whether Descript is worth the investment.
What Is Descript?
Descript is a collaborative audio and video editor with transcription, screen recording, publishing, multitrack editing, and AI tools. It is a great tool for podcasters as it allows them to record, edit, mix, and transcribe audio. Descript can be used either on the web or through a desktop app, and it also has features such as remote recording and filler word removal, as well as an overdub for editing. 
San Francisco-based Descript was established in 2017 by Andrew Mason, a serial entrepreneur who began his career as a CEO and founder at Groupon. He later sold his second venture, Detour, which focused on augmented reality technology, to Bose before launching Descript, where he currently serves as CEO and founder. 
Descript aims to make the editing process accessible to all content creators, regardless of their level of expertise, by simplifying editing workflows and democratizing creativity.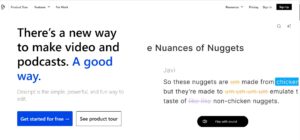 How The Software Works?
Descript employs Natural Language Processing (NLP) to enable Automated Speech Recognition (ASR) and achieve 95% accuracy in converting speech to text. For voice cloning and artificial voice synthesis, Descript employs Lyrebird AI, which was acquired by Descript in 2019 and is now an AI research division within the company.
Descript's intuitive interface makes it easy for professionals and novices to edit their podcasts and videos. Unlike traditional digital audio workstations (DAWs) such as Audacity, GarageBand, or Adobe Audition, Descript offers a novel approach to audio editing. Users can record audio directly into Descript, and the software automatically transcribes it. From there, users can edit the transcript by cutting, pasting, and deleting, and Descript will automatically edit the audio to match.
Key Features Of Descript AI
Transcription
Descript provides transcripts for every uploaded video or audio file. The transcription tool utilizes machine and human intelligence to generate the transcript automatically. But it may not be entirely accurate, so a review and corrections may be necessary. The accuracy of the transcript is crucial as it is utilized for video subtitles.
Additionally, the transcription tool can identify and label speakers in recordings with multiple people.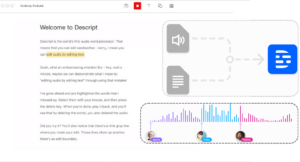 Overdub
Descript Overdub feature can help you avoid re-recording your video if you forgot to include something important. With this feature, a sample of your voice is used to create a cloned voice using AI technology. You simply type the text you want the cloned voice to say and it will do so for you. Additionally, you can create a video without recording your voice by typing the text and selecting a stock voice for Overdub's text-to-speech model to use.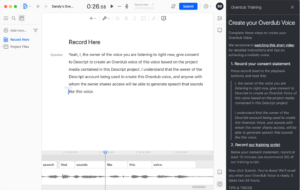 Video Editing
Descript has revolutionized video editing by offering a unique approach that resembles editing a Word document. Users can edit their videos by modifying the autogenerated transcriptions. To remove any unwanted content from a video, one can simply highlight the corresponding script and hit the delete button.
Plus, Descript video editing allows you to merge different scenes and add transitions seamlessly. Moreover, you can include titles and captions to amplify the message you want to convey. You may also insert graphics and shapes, magnify specific elements, or animate layers to make your videos look polished and captivating.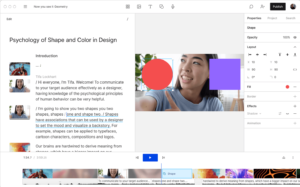 Additionally, lower-thirds play an essential role in live streams by visually showcasing important details such as the names of hosts and guests, brief information, highlighting comments, displaying audience questions, and so on. 
Screen Recording
Descript is a software that can save you time, effort, and money by providing an all-in-one solution for recording, editing, and publishing videos. Its screen recorder allows you to easily capture video from your desktop or webcam and edit it directly within the software.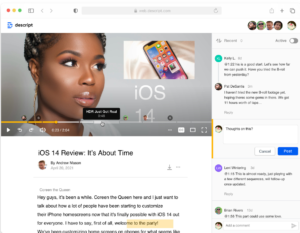 You can start and stop recording at any time using the Ctrl + Shift + 2 shortcut and customize the size of your webcam and the area of the screen to be captured. After recording, you can preview, edit, or delete the video within Descript. 
Social Clips & Templates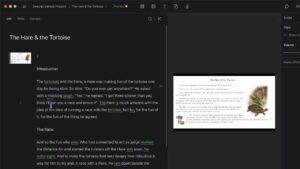 Repurpose Your Content
There are several ways to reuse live stream recordings, such as:
keeping them available for replay on platforms like YouTube

offering them on demand to potential audiences or customers

splitting them into various other videos for sharing on social media.
Another option is creating and selling digital products using Payhip, Podia, or Thinkific. However, repurposing video and audio files can be challenging. Fortunately, Descript can make this task easier and faster thanks to its transcription feature.
Users can select parts of the transcript, copy and paste them into a new composition window, and use them to create new videos or audio files. 
Using Audiograms for Social Media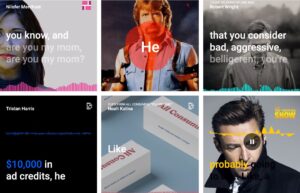 Descript provides audiogram templates that can be utilized for social media sharing, embedding in blogs, and other purposes. The templates are basic but sufficient for beginners.
Studio Sound
Descript simplifies the process of eliminating background noise, improving speech quality, and reducing echoing with just one click. Any microphone can be used to record from any location, and the studio sound tool enhances the sound quality. Descript isolates the speaker's voice and regenerates the audio with enhancements, ensuring that the speaker's voice is not muted. 

Filler Word Removal
Descript can help you establish trust with your audience and maintain their attention. With its filler word removal feature, you can eliminate distracting utterances like "uhms," "ahs," and "erms."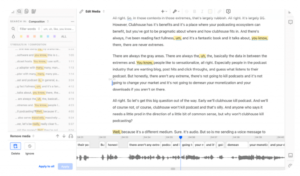 Simply click the "One-click" option to use this powerful tool. Once your transcript is complete, use the "wrench icon" to automatically remove filler words and shorten gaps in your audio or video recordings. This will help you create a more polished and professional presentation to impress your audience. By using Descript, you can make your content more concise and engaging and keep your listeners hooked from start to finish. 
Publishing
Descript provides users with the ability to export documents and subtitles in a flexible manner, along with customizable timestamps and other features. With just a few clicks, users can easily export their project to other video editing software such as Premiere Pro and Final Cut Pro. An XML file is exported which contains all the cuts, animations, and adjustments made in Descript, enabling users to resume their work in another editing program.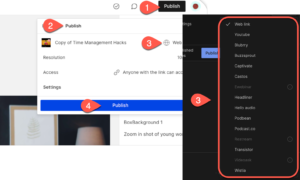 How To Use Descript
Open Descript and navigate to the Drive View.

Click on the "New" button and select "Project".

Name your project and click "Create Project".

Locate the audio recording you want to transcribe, whether it's on your hard drive or phone.

Drag and drop the audio file into your Descript project.

Wait for the software to process the file and select the number of speakers in the transcript. Enter their names if you have them or select "Unsure" if you don't.

Click "Done" to complete the setup process.

Edit your newly transcribed audio to create a polished voice memo, podcast, or other content.

To access the available track actions, simply click on the plus icon located above the editor.

You have the option to dub over an audio segment by selecting a built-in male or female voice or by adding your own voice using the D key.

You can also add a marker at a specific moment in the track's timeline.

For collaboration purposes, you can leave comments on the file for other collaborators to see.
If the audio is difficult to understand, consider getting it transcribed by a third party.
Choose or add an audio file to the project sidebar.

Select the audio file and click More Options > Import Transcript.

Paste the transcription script and format it if necessary.

Click Sync to sync the transcript with the audio.

Drag the audio file to the Composition screen.

The synced transcript will be visible in the Composition screen.
Customer Support
The customer support of Descript is exceptional, providing great help documentation and videos that enable customers to find answers to their queries. Additionally, they offer informative webinars accessible on their website and YouTube channel.
When Descript introduces new products, they explain the features extensively, ensuring that customers are fully informed about the latest offerings.
If you think there is a feature missing from Descript, you can send a request to the team. If you encounter a problem or issue, you can reach out to to their support team by submitting a ticket or sending an email.
Pricing & Plans: How Much Is Descript?
Compared to other editing software products available, Descript is highly cost-effective. Additionally, they provide a free version that enables users to explore some of the features that are available, albeit with some limitations. The free plan allows users to transcribe up to 3 hours of audio, experience a trial version of overdub, access all audio and editing features, and record unlimited screens.
| | |
| --- | --- |
| PROS | CONS |
| Cost-effective solution with a free version available. | Limited time to use the feature. |
| Intuitive interface with a plethora of tutorial videos to help you get started. | May not be compatible with older computer systems. |
| Audio optimization to bring out the vocal and make it stand out. | Overdub feature is exclusive to Pro users. |
| Remote recording capabilities. | Only applicable to English users. |
| AI-enabled transcriptions to make the process easier. | Transcriptions may be imprecise. |
| Digital cloning of your own voice and overdubbing of recordings. |   |
Also Read: SquadCast Review 
Final Verdict
Descript is an effective tool with a user-friendly interface that is easy to navigate. Its text-based video editing capabilities make editing a breeze for both experts and novices alike, streamlining the editing process and minimizing frustration. Furthermore, it boasts an extensive range of features that allow users to achieve virtually anything related to audiovisual content, making it an excellent choice for podcasters.