F1: Beyond The Grid has the most prominent names on the platform. Delivering compelling stories, in-depth looks, and unforgettable reminiscences from F1. If your everyday rush needs a bit of zest, it is perhaps the time to tune in to Spotify and switch to Formula One podcast. But because of so many F1 broadcasts available across numerous media, each with its unique twist on how they do things. You might ask yourself about the best sports podcast for Formula 1 to allot your time and listen to.
The "Official" F1 Podcast: F1: Beyond The Grid
Hosted by Tom Clarkson, F1: Beyond The Grid is a weekly podcast produced in partnership with Audiobloom. It's one of the leading podcast providers. The podcast features F1 news, hour-long interviews, and personal talks with present drivers, Grand Prix superstars, and many of the sport's legends.
The show also provides insight into the lives of the race engineers and the urgency they have to endure, together with team principals and what it's like to lead a Formula 1 team. Clarkson also gets in touch with retired drivers and share their opinion regarding the current F1. While they reminisce about their prime in F1. This level of rapport has helped Beyond the Grid to become a hit and the stories explored have scored the headlines globally.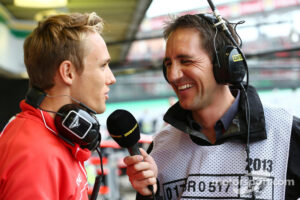 Who's Tom Clarkson?
Tom Clarkson is a man who has strong roots in Formula 1. He was added to the BBC's Formula 1 television team in March 2013 as their pit-lane reporter, working in tandem with Gary Anderson and Lee McKenzie. His credentials include working on TEN Sport's coverage of the Australian Grand Prix and the 2012 Canadian Grand Prix. Not to mention that Clarkson is also one of the editors of F1 Racing magazine.

Formula One is the standard of motorsport, and needless to say, F1: Beyond the Grid is the crowning point of Formula 1 podcasts. This is a phenomenal podcast for F1 fanatics of all ages, regardless of whether you're new to the world of F1. It's among the minority where you can hear former and current drivers and team members get reflective in full-length, powerful interviews. The people being interviewed are very involved and considerate, thanks to Tom Clarkson's relaxed, composed and honest interview style.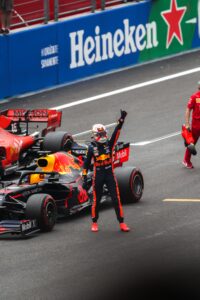 What's So Exciting About F1: Beyond The Grid Podcast
When a lot of sports podcasts and interviews fizzle out by forgetting to engage in deeper conversations with guests. Tom is an expert at asking questions that get his interviewees to express and share their perspectives. He knows the Sport very well, and his demonstrative passion for F1 is contagious. He connects us properly with the participants at all levels of Formula One. Which is not common in event coverage, making Beyond The Grid worth subscribing to. Having a wide variety of personalities and positions being interviewed, the podcast not only covers the topic of sports prowess.
It also talks about other angles like perseverance, hard work, dedication, communication, teamwork. The business which are also related to the everyday lives of those people. This podcast is a definite must for anyone desiring to hear a real behind-the-scenes look into the exhilarating arena of F1 beyond the stunts on race day. And if you thought you were well conversant on all things F1, wait until you listen to this podcast.
Is There Anything Boring About The Podcast?
Amazing true podcast, but sadly they have advertisements during and after the episodes. And they are full-blown commercials. No segues or read by the host. Those abrupt ads are even louder than the host recited by a monotone voice actor announcing the same boring corporate bs in every commercial everybody despises. No need to add those, actually. They just damage the podcast.
Verdict: The Best F1 Podcast!
Podcasts are a nice way to get information on a new interest and listen to discussions on that matter. Do you want to learn more about Formula 1? What interests you in this sport? Regardless of your reason, you must check out F1: Beyond The Grid. Beyond the Grid is the right podcast for those who want to be familiar with the drivers. How they organize their schedules and the pressures of being in F1.