If you want the best sports podcast that bears compelling content, a good reputation, and an extensive list of interesting guests, look no further than The Bill Simmons Podcast. Sports talk radio has been a notable format for years, dedicated entirely to discussing and broadcasting sporting events. In this modern era, podcasts allow us to engulf in ideas about the sports we like. With several podcasts to choose from, determining which ones are worth giving attention to is difficult.
About The Bill Simmons Podcast
The American sports analyst, author, and former sportswriter, Bill Simmons hosts The Bill Simmons Podcast. Bill Simmons launched the Ringer Podcast Network in 2016 after a horrible dispute with ESPN. He first became known because of his website as "The Boston Sports Guy" and was signed up by ESPN in 2001. He worked as the editor-in-chief of one of ESPN's websites, Grantland, until 2015.
The Bill Simmons Podcast is an informal, roundtable discussion concerning all things sports fanatics like to know. Primarily focused on the NBA and NFL leagues, Bill talks about the plays in every game and analyses player behavior.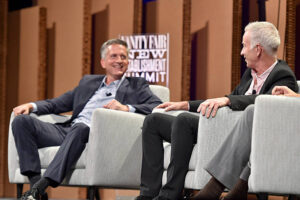 The show's discussion is composed of Simmons, various guests, and other friends and family members available at the recording time. Guests on the podcast include celebrities, athletes, and media staples. The Bill Simmons Podcast's episodes usually run one to two hours and are released every two to three days to offer a continuous series of content.
His show is considered the most famous and downloaded sports podcast, bringing many distinguished guests – anyone from the sports, entertainment, and music industry – to his show. Simmons is known as a man who has no filter, and his writing style, which is from the perspective of a devoted sports fan, helped him win national recognition.
What's The Reason It's Popular?
The Ringer's Bill Simmons has among the most exciting characters, driven by his passion for sports history and pop culture — and is among the best interviewers in the podcasting world. He is a catalyst in the world of sports podcasting. His podcast does an excellent job of calmly incorporating sports with music, movies, and other celebrity conversations without deviating from the topic.



Whether sitting with distinguished athletes like Jalen Rose or talking shop with celebrities who love sports like Bill Burr, Jimmy Kemmel, or Jake Gyllenhaal, Simmons often gets impressive guests. But the 'Best The Bill Simmons Podcast' episodes are usually when people simply talk about sports and forget the rest. However, while Simmons and his guests love sports, the show's crucial strong point, without a doubt, is the outstanding production team of the Ringer. When topics emerge and must be addressed, they have people who are mainly proficient in doing so. Each episode is considerably exciting and dynamic.
Honest opinions, humorous expressions, and in-depth sports understanding meet. But this is passionate and unrestricted enough for occasional sports fans to delight in. Simmons and his accomplices say whatever they want, including opposing with a referee call or a play committed. The Bill Simmons Podcast continues to be a reliable and fascinating source for the most up-to-date sports news. Athletes and huge names join him and help keep a lively yet enthusiastic vibe. Regardless of what Simmons has achieved, you can still hear the cheerful fanatic in his voice.
What's Not So Great About Bill Simmons Podcast?
The show can't help it if there are listeners who find Bill Simmons a bit pretentious. And why does he keeps on talking about gambling? They are ridiculous and unbearable. The podcast has slipped into nothing more than Simmons explaining how his awful choices lost him money. His discussions with his buddies and guests are entertaining to hear. However, sometimes the episodes are too long, stretching for as long as two hours. And being a Boston sports fanatic, he spends way too much divulging the best teams for him over others.

Also Read: How To Start A Podcast On YouTube
Overall Thoughts
The Bill Simmons Podcast is arguably one of the best sports podcasts out there. If you are a diehard sports nut, this podcast is a must-listen. Simmons has a hyperintelligent understanding of sports and provides the best commentary, perspective, and in-depth discussions. You may also listen to The Rewatchable Podcast, where Bill Simmons and some people from the Ringer network talk about films they can watch on many occasions.