Do you want to learn how to live a life filled with meaningful connections, deep purpose, and passionate engagement? If so, then the Good Life Project Podcast is the perfect resource for you! This self-help podcast is hosted by Jonathan Fields and provides inspiration and tools for living a fully-engaged, fiercely-connected, and purpose-drenched life. 
In this review, we will explore why Good Life Project Podcast is an invaluable source of guidance on how to live a good life – one that's fulfilling both personally and professionally. So read on if you are ready to take your life in a new direction! 
What The Podcast Is All About?
Good Life Project was created to build an inspiring and uplifting community of people. The podcast deals with questions about life, such as what it takes to lead a meaningful and fulfilling life and how to create meaningful work. 
The podcast also features interviews with successful entrepreneurs, authors, life coaches, and others who have succeeded in their respective fields. The conversations touch on topics such as habit formation, tackling challenges, and finding motivation and drive. Whether it's talking about the power of vulnerability, the importance of self-care, or the struggle of pursuing a creative dream, each episode brings valuable insight and wisdom. Not only do these stories inspire, but they also help listeners move toward a life of joy and fulfillment. 
It also amplifies the stories, voices, and ideas of Black, Indigenous, and other People of Color and those from within the LGBTQ+ community. 
The show is filled with insight, advice, and strategies for living your best life. It is available on all major podcast platforms, including iTunes, Spotify, and Google Play. 
Why Good Life Project Podcast Is Worth Listening To?
The Good Life Project Podcast is a podcast that transforms people's lives by inspiring them to live their best lives and take action on their dreams. It features stories from inspiring guests, conversations about living an authentic life, and practical advice for taking meaningful steps toward personal growth. 
What makes the Good Life Project Podcast stand out from other audio podcasts is its unique combination of powerful storytelling, deep introspection, and honest advice. Host Jonathan Fields provides thoughtful questions to his guests so they can explore topics like mindfulness, relationships, creativity, resilience, purposeful work, and more in a way that resonates with listeners. He then follows up with practical steps people can take to move forward after listening. This approach gives listeners real-world guidance as well as emotional inspiration — something not often found in traditional talk radio shows or lectures.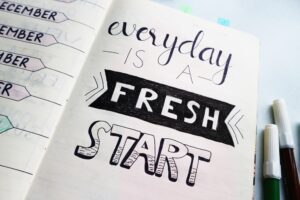 In addition to its content quality and delivery style being top-notch, the show also offers plenty of free resources on its website. They have articles written by Jonathan Fields himself, sharing lessons he has learned along his journey toward self-improvement "the hard way." 
It's no surprise why the Good Life Project Podcast has become such a popular audio podcast. It's not just about entertainment but also provides real value to listeners looking for guidance on creating meaningful and fulfilling lives. 
Important Takeaways From The Podcast
Know Yourself: This means thinking about what makes you happy, what you are passionate about, and what you want to achieve.
Expand Your Comfort Zone: Learning to take risks and push yourself outside your comfort zone can be incredibly rewarding. It can open up new opportunities and help you to reach your goals.
Develop Your Mindset: a growth mindset, which means believing in yourself and that you can achieve anything, is essential for success.
Cultivate Gratitude: Practicing gratitude can help you to stay motivated and focused on the things that matter most. It can also help to reduce stress and increase your well-being.
Be Present: Stay present and focus on the present moment. This means taking the time to enjoy the little things and appreciate what you have.
Pursue Your Passions: This is one of the best ways to create a meaningful life. This means finding something you are passionate about, setting goals, and taking action to achieve them.
 By taking the time to understand the essential points mentioned, you will be well-positioned to create a life you love. 

What Are The Reasons For Some Negative Reviews?
Despite the popularity of the podcast, there are a few areas where the podcast stumbles. 
For starters, the podcast can be quite verbose. Jonathan Fields tends to talk for long periods of time without providing much concrete information. This can make it quite frustrating for some listeners. 
In addition, there are often long pauses between questions and answers. It disrupts the flow of the conversation and makes it hard to maintain interest in the topics being discussed. 
The guests also tend to be quite repetitive in their answers. This can lead to a lot of redundant information, which can be tiresome to listen to. 
The topics discussed can also be quite broad and unfocused. The host often veers off-topic and spends time discussing tangential topics that are outside the main discussion. Making it difficult to stay on track and a bit confusing for listeners. 
These issues have caused some negative reviews for the podcast, as some listeners have found it difficult to stay engaged and focused on the content. 
Overall Review On Good Life Project Podcast
The Good Life Project Podcast is an inspiring and positive podcast that encourages listeners to pursue their passions, create meaningful relationships, and live purposeful lives. Jonathan Fields' approach of combining interviews with experts and practical advice helps people stay motivated in pursuing their goals. With inspirational talks, thoughtful discussions on current topics, and informative resources, this podcast is one of the best self-help podcasts available today. 
By listening to these insightful conversations between Jonathan Fields and his guests, you can get invaluable tips from experienced professionals who have achieved success in various areas of life. So if you're ready to start living a more fulfilling life full of passion and purpose – tune into The Good Life Project Podcast! 
Then check out related posts such as The Art Of Charm Podcast & The Angry Therapist Podcast.
Take control of your life now – start listening to the Good Life Project Podcast today!