Welcome to the ultimate review of The Angry Therapist Podcast! Are you looking for an engaging self-help podcast to help you in various aspects of your life? If so, look no further than The Angry Therapist, hosted by John Kim.
With a unique mix of humor and insight, this show offers everything from tips on health and fitness to advice on managing stress and finding inner peace. This comprehensive review will provide an overview of the show's content, benefits, and highlights. We'll give you all the information you need to make an informed decision about whether or not it is right for you. So if you are ready to explore how this empowering podcast can help improve your life, keep reading! 
About The Angry Therapist
The Angry Therapist Podcast, hosted by John Kim, is a podcast dedicated to helping listeners get the therapeutic help they need in ten minutes or less! John provides high-quality and witty content three times a week relevant to the topics at hand. Each episode of this podcast covers various mental health issues, from anxiety and depression to relationship advice and career guidance.
John's approach is casual yet insightful. He explains concepts without making them overly clinical or complicated. He also shares stories from his own life that are both humorous and relatable. And this helps listeners feel more comfortable with the material being discussed and connect with it on a deeper level. In addition to addressing mental health issues from an individual perspective, the podcast also offers resources for couple counseling, family therapy sessions, and other forms of therapeutic guidance when necessary.
The Angry Therapist Podcast offers an engaging mix of stories, advice, and tips to inspire you on your journey toward growth and transformation. It is a show that provides short but enlightening episodes that offer real-world advice on how to cope with our daily struggles in 10 minutes or less! 
What Do I Like About The Podcast?
The Angry Therapist Podcast has gained a loyal following due to John's unique approach to mental health and his dedication to practicing transparency and cutting through the bullshit.
According to a study, approximately 75 million millennials worldwide use self-help services. And this includes listening to a podcast. 
Throughout each episode, John Kim shares his experiences with vulnerability and provides insight into how we can all lead more meaningful lives. He has an uncanny ability to connect with his audience. He offers them honest advice and helpful strategies for dealing with the often-challenging aspects of life. John also encourages people to be open about their struggles and ask questions without fear or judgment. And this is something many of us struggle with in our daily lives.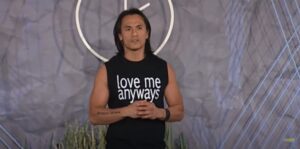 He also offers tools for personal growth, such as mindfulness exercises and journaling techniques. His storytelling style helps make even tricky conversations easier to digest – a breath of fresh air for those who have experienced similar issues.
The Angry Therapist podcast is also full of humor, and the host often uses satire to make a point or to put a lighthearted spin on a serious subject.  John's no-nonsense approach and willingness to tackle complex topics make it a must-listen for anyone looking to make a positive change in their life.
And listening every week gives you access to real-life wisdom from someone who has been through it all. It is a unique opportunity that appeals to thousands looking for guidance on their journey toward self-improvement! And also for many listeners looking for support, advice, and a sense of community. 
Key Takeaways From The Angry Therapist
Mental Health Is As Important As Physical Health: Take care of yourself emotionally and physically and practice self-care.

Relationships Matter: Relationships are essential for a healthy life. It is important to form and maintain strong relationships, no matter the type.

It's OK To Make Mistakes: Everyone makes mistakes, and that's OK. Embrace your mistakes, and use them as learning opportunities.

Know Your Worth: Knowing your worth and having a solid sense of self-esteem is essential. Focus on the positive aspects and strive for personal growth.

Get Out of Your Comfort Zone: Step outside of your comfort zones and try new things. Embracing new experiences is key to personal growth and success. 

What Do I Dislike On The Podcast?
The Angry Therapist Podcast has come under fire for the number of ads included in each episode, which many listeners have found disruptive and distracting. Additionally, some listeners have complained about the host's lip-smacking, sipping drinks, and other noises. These distractions can make it harder for the audience to stay focused and engaged in what they are hearing. Thus, resulting in an overall poorer quality podcast experience.
Prioritize more intentional editing of audio content to ensure that all elements contribute positively towards delivering a quality listening experience. By cutting out unnecessary noise and taking steps to reduce ad breaks within episodes, audiences can focus better on absorbing important messages. 
Overall Review On The Angry Therapist Podcast
The Angry Therapist podcast is a valuable help for anyone looking to make meaningful life changes. Through John Kim's passionate and intelligent approach, listeners can gain insight into how to better understand themselves and others. His well-researched advice and storytelling provide a unique perspective than can help his listeners.
At its core, The Angry Therapist is about helping people become the best versions of themselves, making it one of the most potent and inspiring podcasts available today.
Ready to get started on your journey toward personal growth and development? Tune in to The Angry Therapist for insight, advice, and real-life examples.
For more resources related to this topic, check out The Hardcore Self-Help Podcast!