As the media landscape evolves, so does our ability to stay connected with tennis. We can now find all the latest court news and insider action through popular tennis podcasts – a convenient way to keep up with the sport we love. And suppose you're a tennis enthusiast looking to stay informed on the latest professional news and gain insight into the game. In that case, The Tennis Podcast is an invaluable podcast.
We invite you to stay informed on The Tennis Podcast and gain insight into the game of tennis. Our review provides an in-depth look at this popular podcast, giving you all the latest court news and insider action. Don't miss out on this great opportunity to stay connected with your favorite sport – read our review now!
What The Podcast Is All About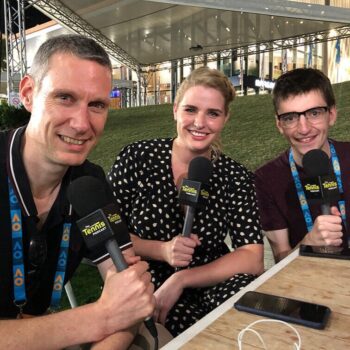 The Tennis Podcast is an entertaining and informative podcast about the world of tennis. Hosted by experienced commentators David Law (BBC 5 Live and BT Sport), Catherine Whitaker (Amazon Prime Video TV presenter) and Matthew Roberts. The Tennis Podcast delves into the sport, providing listeners with insights from some of the biggest names in the game. It looks at professional and amateur levels, covering all four Grand Slam tournaments and other major events on the ATP/WTA circuit. 
Each episode lasts 45 minutes to an hour and is geared toward knowledgeable tennis fans in the UK. 
The podcast features interviews with star guests, including Andy Murray, John McEnroe, Martina Navratilova & even Jose Mourinho. Plus, analysis from journalists who keep up to date on what's happening in tennis worldwide. The hosts add their unique flavor to each show. Along with discussions about current topics related to tennis in Britain, there's also plenty of fun banter along the way. So much that listeners even have their own "boat," which you can only get on if you know what it means. 
In addition to its regular programming, the podcast offers exclusive content through its subscription service, Friends of The Tennis Podcast. And this provides access to additional content not available anywhere else. 
With over 6 million downloads since 2012 and support from around 100 countries globally, this podcast will satisfy any serious fan's appetite for news about their favorite sport! 
Reasons To Give The Tennis Podcast A Listen
The Tennis Podcast is the ultimate source for all things tennis. Since the podcast is based in the United Kingdom, fans are familiar with news from that area. While some details may focus more on the region, they have created a global fan base. 
The hosts, David, Catherine, and Matt, have a unique chemistry that brings life to their show. The trio takes along years of experience in covering tennis events. They provide an entertaining and insightful look into all aspects of the sport – from on-court action to player gossip. 
Furthermore, they regularly invite special guests to their show, such as former Grand Slam champions and coaches. This way, listeners can get firsthand advice from those at the top of their respective fields. 
Finally, they have Wimbledon and regular discussions about other topics related to tennis culture worldwide. With daily recaps during major tournaments, The Tennis Podcast provides an entertaining window into one of the sport's most exhilarating games.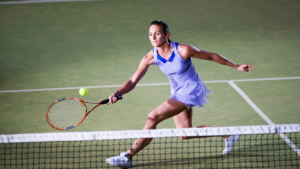 Some Important Takeaways From The Podcast
Mental Toughness: The Tennis Podcast emphasizes the importance of having a strong mental game to succeed at the highest levels of competition. They provide tips on developing mental toughness, such as staying focused, setting realistic goals, and staying positive in challenging situations. 
Strategy: The podcast provides insight into the strategies that can be used to maximize performance on the court. They discuss the importance of understanding your opponent's game and how to adjust your strategy accordingly. 
Technique: The show also supplies detailed advice on how to improve your technical game. They discuss the importance of developing a consistent and powerful serve and the various techniques for returning and volleying. 
Nutrition and Fitness: The Tennis Podcast also offers advice on how to improve your physical game. They discuss the importance of having a balanced diet and staying hydrated, as well as getting enough rest and a good physical training regimen. 
Mental Preparedness: It also emphasizes the importance of being mentally prepared for a match. They provide advice on staying focused and maintaining a positive attitude during a game and handling the pressure of playing in a high-stakes tournament. 

The Cons Of The Tennis Podcast
The Tennis Podcast has earned a reputation as one of the best tennis-related podcasts, but unfortunately, it has its drawbacks. 
Listeners have noted a clear bias and obsession with British tennis players, which makes it difficult for fans of other regions to fully enjoy the podcast. Additionally, some listeners have reported feeling uncomfortable with the podcast's tendency to venture into identity politics. Catherine can often be heard going on lengthy tangents about culture and woke topics, which some listeners find unnecessary and even irritating. 
The Tennis Podcast is a great podcast for UK tennis fans and those interested in British tennis players. 
Overall Opinion On The Tennis Podcast
The Tennis Podcast is among the best UK sports podcasts and an absolute must-listen for tennis fans. Its engaging format and knowledgeable hosts provide great insight into the sport and an enjoyable listening experience. Whether you're a hardcore fan or just starting, this podcast will surely be a valuable resource in your understanding of the game. 
Discover the best in tennis talk and be part of the conversation! Tune in now to The Tennis Podcast for engaging insight into the sport, knowledgeable hosts, and a great listening experience. Don't miss out – join them today!