Gator Frameworks GFW-MIC-0821 – a dynamic and versatile microphone stand that is designed to fit all your stage and studio needs. This stand provides unmatched stability with its heavy-duty construction and convenient height adjustment. You'll appreciate the mobility of the included locking casters and the tension adjustment knob that locks the stand in place. Whether recording in a studio or performing on stage, Gator Frameworks GFW-MIC-0821 will surely exceed your expectations.
Read our article to learn more about this fantastic microphone stand and why it's the perfect addition to your setup!
| | |
| --- | --- |
| PROS | CONS |
| Adjustable height and angle | Size might be too large for a small desk. |
| Weighted base for stability | Weight might be too heavy for some users. |
| Non-slip feet for added security | Some users find the rectangular base unappealing |
| Flexible design to suit different environments |   |
| Sturdy construction for heavier mics |   |
| Cable management clip for easy organization. |   |
About the Gator Frameworks GFW-MIC-0821 Compact Base Mic Stand
Gator Cases specializes in making protective products for all sorts of instruments and equipment. Our products vary in size, material, and protective capability, ranging from Frameworks stands to Rackworks install racks and accessories to Protechtor drum cases. 
The GFW-MIC-0821 stand from Gator Frameworks is an excellent choice for both podcasters and musicians/home recorders. It features a small base that won't take up too much space on a desktop, making it ideal for podcasting. It also boasts a sturdy steel construction that allows it to securely hold microphones for kick drums or amplifiers, making it suitable for recording. All in all, it is a great option for both podcasting and recording. 
Key Features Of GFW-MIC-0821
Short Stand for Lower Sources

18″ Single Section Boom

Heavy-Duty Steel Construction

Compact Weighted Base

No-Slip Vibration-Reducing Gasket

Fits Both US and Euro Mic Clips

Cable-Management Clips Included 

Design & Performance
The GFW-MIC-0821 is a 23" high steel constructed stand, with soft rubber twist knobs for easy adjustment. It has a weighty base with dimensions of 8 inches by 4.5 inches, providing a secure hold without taking up too much space. The secure weighted base of the Gator Frameworks Bass Drum/Amp Mic Stand with Boom ensures minimal shaking and a steady foundation. The stand also has a no-slip, vibration-dampening gasket for improved sound quality. 
The stand is designed with adjustable, removable cable management to help keep your setup neat and orderly. Its adaptable microphone stand fitting can work with both U.S. and Euro mic clips and is compatible with the most popular podcast microphones. 
The single-section boom arm enables you to adjust the height and angle of the microphone independently. It can be altered from 13.25″ up to 16.25″ from the tabletop, with the maximum height of the microphone when attached to the extended boom being 27″. The microphone can be lowered to a minimum of 2″ when the boom is pointed downwards, giving you an extensive range of placement options. 
Easily adjust the height of the soft-grip, ergonomic twist clutch with a simple quarter-turn. The comfortable shape and texture make it ideal for anyone who is actively using the microphone or for when you need to share it with another person. 
Specifications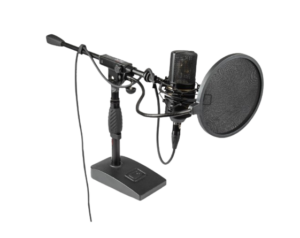 Stand Type: 
Bass Drum/Amp Mic Stand
Height: 11.5″-23″
Base Type:  U-shape
Base measures: 4-3/8″W x 2-1/2″H x 8″D
Weight: 6.8 lbs.
Max weight capacity: 5 lbs.
Boom:  16″ Fixed
Connection:  5/8
Main tube adjustment:  1
Tube Materials: Steel
Manufacturer Part Number:  GFW-MIC-0821
Final Verdict On GFW-MIC-0821
You will be pleased with the Gator Frameworks GFW-MIC-0821 stand. The height adjustment sleeve has a secure grip and the base feels very solid and heavy-duty. It's perfect for podcasting, looks great and does exactly what it needs to do.
---
Did you find our review article helpful? Let us know in the comments below!