In the last months, 41% of Americans aged 12 and above have listened to a podcast, according to a study conducted by the Pew Research Center. With the popularity of podcasting on the rise, those wanting to start a podcast or already having a show may need reliable mic stands for their microphone to ensure good quality sound and protect their equipment. The best podcasting mic stand is the solution to this need.
The Importance of Having The Best Podcast Mic Stands
Using a mic stand for your desk is not mandatory, but is highly recommended. Having one can improve the overall quality and convenience of your recording or performance setup since it provides a secure, adjustable way to hold your microphone in place. Here are some advantages of having a mic stand: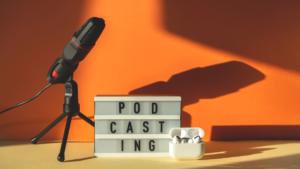 Mic Placement
A mic stand arm can provide the best sound capture by helping you to position your microphone at the appropriate height and angle. This is vital when recording vocals, as it guarantees that the sound waves are accurately directed toward the microphone diaphragm. With careful adjustment of the mic stand, you can position the microphone in the perfect spot to capture the desired sounds.
Secure Your Podcast Microphone
A mic stand protects a microphone by keeping it secure and in a fixed position. It also prevents the microphone from tipping over from the weight of the microphone. You certainly don't want to experience the terrible sight of your podcasting microphone tumbling off the stand and smashing onto the ground while you are recording.
Reduce Noise
Holding a microphone can lead to unwanted movement and handling noise during recording. A shock mount is an ideal way to keep the microphone steady, while a pop filter can help reduce the popping sound caused by plosives. Both devices can be used easily with a mic stand.
Increased mobility
A mic stand gives you more freedom while recording, allowing you to keep the microphone in place while taking care of other tasks. This way, you don't have to worry about holding the mic and can instead focus on engaging with your audience.
The Different Kinds of Podcast Mic Stands
The type of mic stands you should use depends on the purpose of the microphone and your specific needs. There are mic stands suitable for recording in a studio, performing on stage and recording podcasts, to help you get the best possible sound. 
The different types of microphone stand available for recording are Desktop Stands, Boom Arm Stands, and Overhead mic stands. 
Desktop Mic Stands
Podcasters and DJs frequently use a microphone stand attached to a table with a metal clamp. Often referred to as a clamp-mount stand, this type has two or three joints, allowing it to be positioned directly in front of the speaker's face. Shock mount clips are usually used with this type of stand. 
Boom Arm Mic Stands
Boom Arm Stands are a great choice for podcasters with flexible recording positions. These stands feature an adjustable arm that can be manipulated to different angles and lengths, allowing the microphone to be placed closer to the sound source. This makes boom stands an ideal option for those who don't have a fixed recording position. 
Overhead Mic Stands
Overhead mic stands are meant for suspending microphones over sound sources like choirs or orchestras. This type of microphone stand is much taller than a regular one, and its boom arm extends further. With this mic stand, you can capture audio from large groups of people at once. It's best to use an omnidirectional microphone with an overhead mic stand, as it records sound from all directions.

Our Top Pick For The Best Podcast Mic Stands
Gator Frameworks GFW-MIC-0821

The Gator Frameworks GFW-MIC-0821 is an excellent, cost-effective choice for various uses. This mic stand features a sleek black finish and a telescoping boom arm for easy adjustments and precise microphone placement. With a maximum height of 23″ and a 16″ long boom section, it also includes cable clips and a heavy base, making it perfect for use on a work desk.

Rode PSA1

The PSA1 from Rode is an ideal boom arm option for podcasters of all skill sets, from novice to professional. This two-section, spring-loaded microphone arm can rotate 360 degrees and has a maximum reach of 32 inches (820mm) horizontally and 33 inches (840mm) vertically. Made of solid metal, this stand promises long-lasting durability, and its weight balance ensures it will stay in whatever position you leave it in.

Pyle Heavy Duty PMKS56

Pyle Heavy Duty PMKS56 is a ruggedly constructed mic stand that provides extra stability when recording your podcast. It has an adjustable tripod base and T-bar to customize the stand. Weighing in at 4.5 kg and measuring 29.5 inches, the boom arm can be adjusted between 2.8ft and 5ft. Plus, the stand features a 5/8 inch threading, a standard size for most mic stands.

K&M Telescopic Boom 21090

The K&M Telescopic Boom stand is made from Swiss steel and zinc die-cast base for long-term durability. It is adjustable in height, ranging from 35.5 to 63.1 inches so that you can customize it to your preferred comfort level. Weighing only 3.3 kgs, it is extremely portable and can be set up anywhere. Furthermore, the sturdy construction allows it to hold heavy mics without the risk of tipping over.

On-Stage DS7200B

The DS7200B is a great microphone stand because it has a weighted base (3 lbs) of six inches in diameter with rubber feet to prevent movement or noise. It has a sturdy black finish and a clamp to attach to a desk or tabletop securely. The stand also has a flexible gooseneck that permits accurate microphone positioning and a built-in pop filter, reducing plosives and other unwanted sounds. There are no adjustment knobs necessary with this stand.

Heil Sound SB-2

The Heil SB-2 is a versatile clamp boom arm ideal for those who need to move it to different locations. Its vice mount attaches to a desk, and its stand fits into the hole in the top of the mount, allowing it to rotate 360 degrees. With a length of 17 inches, it can fit even in the tiniest of spaces.

Hercules MS533B

The MS533B Hercules Tripod Base Hideaway Boom Stand is an effective and efficient equipment. Its 30.7-inch boom can be quickly and easily adjusted to different heights and angles thanks to its adjustable knob. You can change from a single-pole to a tripod boom stand with just a few simple adjustments.

NEEWER NW-35

The NW-35 Boom Arm is budget-friendly and excellent for use in the home studio. It is made of steel and has a C-clamp that can attach it to desks up to 1.7 inches (4.5cm) thick. It can hold microphones weighing up to 3.3lb (1.5kg). This black scissor arm is adjustable and has a 360°-rotation and 270°-pivotable spigot for microphone positioning.

Samson MBA38

For content creators seeking to upgrade their productions, the Samson MBA38-38 is a reliable and budget-friendly boom arm option. Boasting the ability to hold up to five pounds of weight, it is well-suited to heavier or more expensive microphones. With this boom arm, you can rest assured that your prized microphone is safe and secure, dangling before you in all its glory.

Blue Compass Premium Boom Arm

Blue Compass is an excellent tube-style boom arm ideal for a range of broadcast applications such as podcasting and voiceover work. It is equipped with an internal spring design to provide silent and smooth operation and can handle microphones weighing up to 2.4 pounds.
How To Choose The Best Mic Stands For Podcasting?
When deciding what podcasting microphone to purchase, several factors must be considered. To help you with your selection, here are some of the best options available. 
What Process Do You Follow To Record Your Podcast?
Understanding the process of recording episodes will assist you in determining what content to include.
What is your recording setup like?

Do you prefer to remain stationary or move around when recording?

Do you have a specific position that you always use when recording or does it vary?

Will you have any other people in your recordings?

What type of microphone and stand do you have?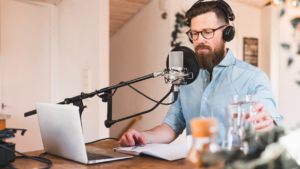 Your Podcasting Mic's Compatibility
When selecting a microphone stand for podcasting, ensure it suits your microphone. Heavier ones, such as the Shure SM7B, require a sturdier desktop clamp mount or a tall stand with a weighted base. On the other hand, a large-diaphragm condenser mic will need a shock mount stand. It's important to check the compatibility of the stand with your microphone type before making the purchase. 
Mic's Connectivity
Most podcasting microphones have a USB connection, but models are also available with XLR connectors. If you plan to use your microphone with any additional audio equipment, select a model with the correct connector type. USB microphones are a popular choice for podcasting, as they are simple to set up and use. 
Weight
What type of microphone are you using? Make sure to jot down its weight and check if the microphone stands you're considering buying can support it. If you're using it in a professional setting, you'll need something strong and won't break easily. However, if it's just for personal use, something that's lighter weight should be good enough. 
Height
The height of the microphone stand is an essential factor to consider, as it should be commensurate with your height. For most stands, the range of heights can vary quite significantly. If you use a boom arm stand, you may get away with a smaller one in certain situations, but you will need something that can reach you for a standard stand. The height of the stand should also be appropriate for the setting or use, as it may be too low for covering a group of people. 
Conclusion:

Finding

the

Right

Podcast

Mic

Stands

for

Your

Needs
Finding the perfect mic stand for your recording needs can be a great way to boost your productivity and create an efficient workspace. Whether you prefer to record while sitting or standing, there are a variety of mic stands available for you to choose from. Be sure to do your research before making your purchase; read customer reviews and seek advice from experienced podcasters.