Are you looking for a way to improve your mental health and learn more about the subject? Well, have you considered listening to podcasts? With over 225 options on iTunes alone, there's bound to be a show that covers what interests you. From autism to binge eating, these podcasts can teach you coping skills, enhance your relationships and help you enjoy life more. But if you're looking for something that uses humour to inspire hope, then keep reading because we've got just the podcast for you! Trust us – it's called Sh!t That Goes On In Our Heads and it's one of the best out there.
Want to know more? Keep reading!
Overview Of Sh!t That Goes On In Our Heads
Sh!t That Goes On In Our Heads is a podcast where two best friends talk about life's ups and downs. They cover a wide range of topics, from relationships to mental health, and even pop culture. The hosts are G-Rex and Dirty Skittles, who keep the conversation light-hearted with humor and occasional curse words. 
The goal of the podcast is not only to make listeners laugh but also to provide helpful tips for dealing with tough times. Each episode is less than an hour long, making it easy for listeners to fit into their busy schedules. 
The conversations on Sh!t That Goes On In Our Heads are real and authentic. The hosts want listeners to feel like they're part of the group too. They offer new tools for taking on whatever life throws at you so that you can walk away feeling uplifted and inspired. 
If you need a break from the chaos of everyday life or just need a little pick-me-up, tune in every Tuesday for a new episode of Sh!t That Goes On In Our Heads. You'll leave feeling better than when you came in – guaranteed!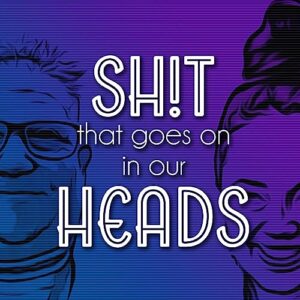 Who Are The Hosts
G-Rex and Dirty Skittles are the hosts of our podcast. They picked those names to keep their identities low-key, but it didn't really work out that way. 
G-Rex got her name because she's only 4ft 11in and has short arms, so it's just a funny nickname that stuck with her for a long time. And Dirty Skittles got hers in her 20s when she was working two jobs and living off vending machine food. She dropped some skittles on the floor one day, picked them up, and put them back in her pocket to eat later -her co-worker started calling her dirty skittles and the name just stuck. 
They chose to do the podcast because they want to talk about Mental Health and normalize conversations about it. This was inspired by G-Rex's own mental breakdown experience on Christmas 2022, where laughter helped her heal and sharing her story became a powerful source of healing.

Reasons To Tune In To The Podcast
I've been listening to this awesome podcast lately and I have to say, it's a bomb dot com! The guests they bring on are so interesting and their stories are just captivating – you really get a sense of what makes people tick. And the hosts themselves are just so personable, it feels like you're hanging out with friends.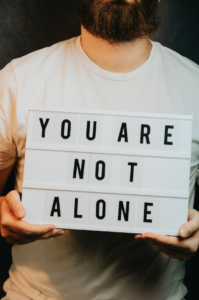 One thing that really sets this podcast apart is their intro cue – you know how in movies there's always a moment where someone says "action" before the scene starts? Well, these guys have their own version of that and it's just such a cool way to kick things off. 
But seriously, every episode is packed with valuable information – from mental health discussions (which I personally love) to funny anecdotes about life experiences. It's like having your own personal therapist while also getting some laughs in. 
I think what makes this podcast so great is how relatable everything is. You feel like you're part of the conversation and not just listening in on something happening between two strangers. Plus, the hosts' storytelling abilities are truly top-notch – they always manage to keep me hooked from start to finish. 
So if you're looking for a mood booster or just want something entertaining and informative to listen to during your commute or while doing chores, I highly recommend checking out this podcast. 
What's Less Than Ideal From The Podcast
One thing that left me feeling a bit unsatisfied was the ending of the podcast. When the host said, "Remember that it is okay to not be okay, just make sure you are talking to someone!" I wasn't quite sure if that was the end or if there was more coming. Usually, podcasts have some sort of formal sign-off or closing message before ending. It left me feeling like something was missing and wishing for a clearer conclusion.
However, overall I still really enjoyed listening to the podcast and found it engaging and informative!
Final Thoughts
Overall, the Sh!t That Goes On In Our Heads podcast is a great way to pass the time and learn something new. G-Rex and Dirty Skittles create a safe space where they openly talk about serious topics while still making you laugh. Their advice is practical and relatable on so many levels. 
If you want to overcome negative aspects of your life with healthy conversation, click the listen button below to listen to this amazing podcast now!